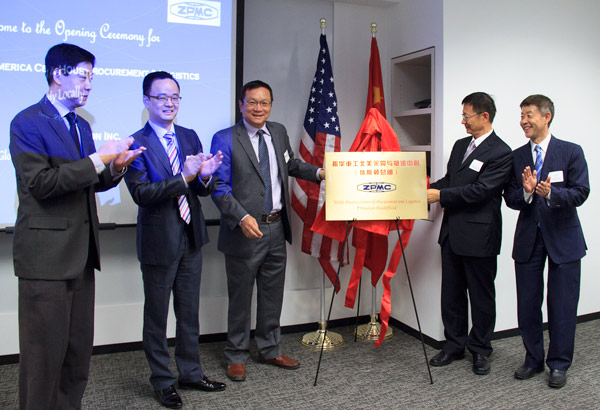 From left: Alan Ye and Zheng Min, both managers at ZMPC; Yi Luping, president of CCCC USA; Chinese Consul Cao Derong and Li Shaolin, president of CGCC, unveil a plaque marking the opening of ZPMC North America Center of Procurement and Logistics on Monday. [Photo/China Daily USA]
Shanghai Zhenhua Heavy Industries Co Ltd (ZPMC), a heavyweight in port machinery manufacturing, opened a Houston office on Monday expanding its international operations while enhancing their opportunities in offshore business.
According to Zheng Min, standing vice-managing director at ZPMC, the newly established ZPMC North America Center of Procurement and Logistics is one of ZPMC's strategic moves to become more international. Zheng said the company opened its European center four months ago in Hamburg, Germany.
Of its $2.5 billion procurement last year, $500 million was from the US and $400 million was from Europe. "A local presence will shorten the delivery time, give us better quality products and more favorable prices," said Zheng.
As the top manufacturer of port machinery, ZPMC currently holds 70 percent of the global market share, which leaves little room for growth.
"In order to grow, we have to look into new industries, and offshore is what we are expanding into. This happens to be one of China's strategic development sectors, and we have the financial strength to do it.
"We have accomplished our first goal: our Chinese brand has become internationally famous. Now we are working toward the second goal: to produce the best products," said Zheng.
ZPMC is a listed subsidiary of China Communications Construction Company (CCCC), a Fortune 500 Global company. Its US president Yi Luping said international business is an important part of CCCC and accounted for a quarter of its total business.
Currently, CCCC USA is under restructuring with eyes on transitioning into an investor from its traditional role of contractor. "CCCC will allocate more resources to invest in the US," said Yi.
According to Alan Ye, vice-managing director at ZPMC, the Houston office is its third office in the US after opening one in Los Angles and one in Plymouth, VA.
ZPMC openning its Houston office during Chinese President Xi Jining's state visit to the US is no coincidence. "This is the right time for it because economic exchange is an important part of China-US relations," says Cao Derong, Chinese consul and director of commerce.
Li Shaolin, president of the Houston chapter of China General Chamber of Commerce USA (CGCC) and PetroChina International (USA) said that CGCC will provide help from information sharing to talent hiring to ZPMC for it to succeed. "You have come to the right place because there are a lot of ports along the coast of the Gulf of Mexico," said Li.