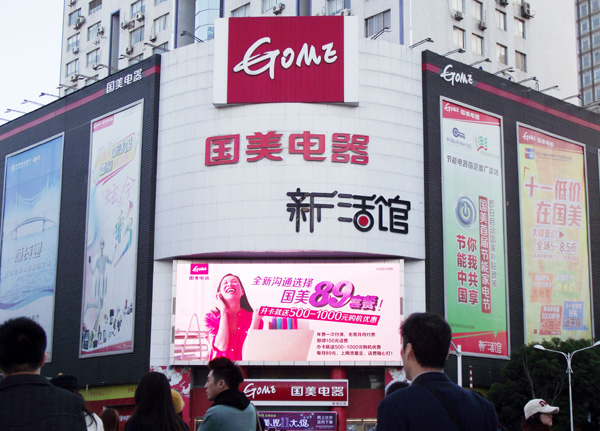 A Gome outlet in Nanjing, capital of East China's Jiangsu province on Nov 11, 2012.[Zhen Huai / Asianewsphoto]
Huang Guangyu is pulling off a deal to consolidate control in China's second-biggest electronics retailer even while he is behind bars.
The founder of Gome Electrical Appliances Holding Ltd, in prison until 2024 for bribery, is set to boost his stake to as high as 55.3 percent after Gome announced plans to buy a company he owns. Gome's shares plunged.
The Beijing-based retailer said on Sunday it signed an agreement to buy Artway Development Ltd for HK$11.3 billion ($1.46 billion) from Gome Management Ltd. Artway, which sells electrical appliances under the Gome brand name, is wholly owned by Huang.
Gome shares, which had been suspended on July 20, tumbled 13 percent by the close of trading in Hong Kong to HK$1.27, the lowest level since July 8. Its larger competitor Suning Commerce Group Co closed down 10 percent in Shenzhen, while the Hang Seng Index lost 3.1 percent.
The cost of the acquisition is too high, and its synergy effect is unclear, according to Huang Yaoxin and Guo Haiyan, analysts at China International Capital Corp. The deal is not expected to result in any meaningful changes as Gome already provides management and purchasing services to Artway, the analysts, who maintained a sell rating on the stock, wrote in a note published on Monday.
As part of the transaction, Gome will issue Gome Management Ltd 6.2 billion new shares, and 2.5 billion warrants that can be converted into new shares, the company said. The issuance will lift the Gome stake held by Huang and his associates to as high as 55.3 percent, from 32.4 percent at present.
"The acquisition simplifies the management and financial structure of all Gome stores, which paves the way for Huang's takeover upon his potential return," Anita Chu, an analyst at Bank of Communications Co, wrote on Monday.
Huang, sentenced to 14 years in prison in 2010 for bribery and insider trading, forced the resignation of Gome's former chairman in 2011 to reassert influence over the board.
He may face opposition from some shareholders on the latest deal as it would dilute Gome's earnings, said Alfred Or, an analyst at Qilu International Holdings Ltd.
"I think at this stage, the shareholders will object to the deal most probably," Or added. "If the deal is accepted, the share price will drop because it will lose part of the revenues and earnings due to consolidation."
BlackRock Inc controls 4.7 percent of Gome through several portfolios, while Morgan Stanley holds 3.8 percent and UBS AG funds have 3 percent, according to data compiled by Bloomberg.
Gome said an application will be made to the regulator in Hong Kong for a so-called whitewash waiver, intended to exempt Huang and Gome Management Ltd from making a mandatory general offer for the shares they do not already own.
The waiver, if granted, would be subject to the approval of Gome's independent shareholders, the filing said.