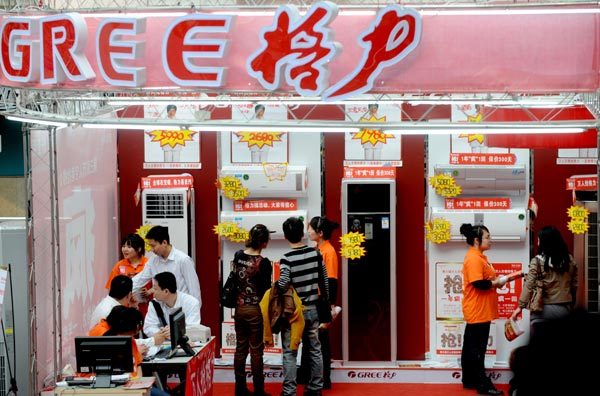 Consumers attracted by Gree's promotion campaign at an outlet in Shenyang, Liaoning province.[Photo/China Daily]
RIO DE JANEIRO -- The Chinese appliance company Gree introduced its latest zero-energy consumption air conditioner model to the Brazilian market Thursday.
The product, named VRF photovoltaic unit, is the perfect combination of photovoltaic power generation and home appliance: It not only is an air conditioning unit, but is also a power station that can generate energy for all appliances in one's home.
Also, the product has five different operating modes, so that the unit can be set up in real time to provide residual energy to the national grid.
"Brazil's government and people pay a lot of attention to environmental protection, but they still lack photovoltaic technology in the air conditioning field," Gree President Dong Mingzhu said.
"At the same time, the Brazilian air conditioners market is going through a modernization era and needs a new generation of products. Therefore, it is a good opportunity for Gree," she said.
Gree has been operating in Brazil for 15 years. Over the past 15 years, Gree has made a profit of some 2.5 billion reais ($808 million), with approximately 1 billion reais ($323 million) made in contributions and benefits to its workers.
Carlos Prado, manager of air-conditioner distributor BonShop in Sao Paulo, said that Brazilian consumers have embraced the Chinese brand very quickly due to the high quality of its products.
Arnaldo Basile, vice president of the Brazilian Association of Refrigeration, Air Conditioning, Ventilation and Heating (ABRAVA), said the association appreciates companies that use advanced technologies that help the healthy development of the local market.
"We thank Gree for bringing this new product, which represents a major advance in the field of air conditioning technology," he said.
The launch of Gree's new product came only hours after Chinese Premier Li Keqiang concluded his visit to Brazil. During his visit, Li stressed the importance of bilateral cooperation in production capacity.