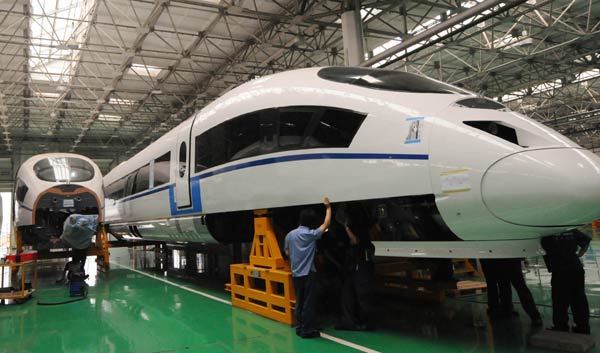 An assembly line of CNR Corp in Tangshan, Hebei province. [File photo/Xinhua]
China Railway Construction Corp is expected to receive a compensation of $1.31 million after a high-speed rail project it won in a bidding process in Mexico last year was suspended for four months.
Yuriria Mascott, deputy minister at Mexico's communications and transport ministry told local news outlets there on Thursday that after an official analysis of CRCC's costs, a legal team had informed her that the Chinese company should receive the amount.
Liu Wen, a press officer at the CRCC, said the company which had been the lead in a consortium that won the project had not received any information on the move, but said it was watching the situation closely to protect its legal and commercial interests.
The planned 220-kilometer railway is being designed to carry some 23,000 daily commuters from Queretaro, the center of Mexico's aerospace industry, at speeds of up to 300 km per hour, to Mexico City.
The Mexican authorities had blamed the indefinite suspension on falling oil prices and the need to cut public spending. The Mexican government derives about one-third of its revenue from the oil sector.
The bid was won by the CRCC-led consortium in November but the Mexican government later annulled the result citing domestic reasons.
The CRCC then managed to participate in a second round of bidding in mid-January.
The Chinese government called on the Mexican government in early February to respect the legal rights of Chinese companies after the Mexican Finance Ministry suspended the controversial $3.75 billion high-speed rail project. To prevent further loss, the CRCC formed a team of legal experts to challenge the decision.
He Jingtong, an international business law professor at Nankai University in Tianjin, said if true, the announcement of a figure would be just the first step in a process by the Mexican government to value the manpower and money that the Chinese firm had invested in the bid.
Mexico said another project to build a $9.2 billion international airport in Mexico City would not be affected by the high-speed railway project suspension.