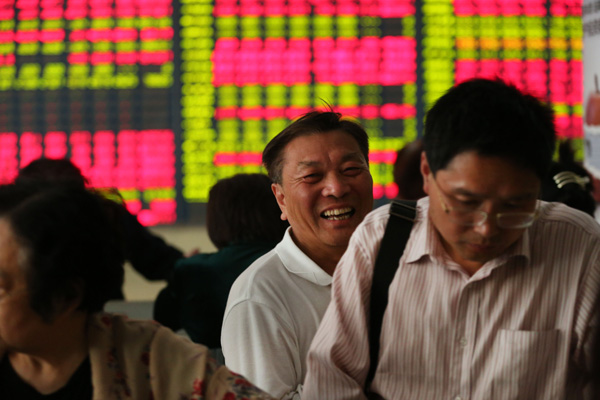 Investors at a brokerage in Nantong, Jiangsu province. The Shenzhen Component Index posted its biggest weekly gain since 2008 as investors speculated the government will boost technology spending. [Photo/China Daily]
Move aims to widen access to capital markets on the Chinese mainland
Cross-border sales of mutual funds between the Chinese mainland and Hong Kong will start on July 1, the China Securities Regulatory Commission announced on Friday.
"This is an important move for promoting Chinese capital markets' opening to the world," said Deng Ge, a CSRC spokesman. "It's a mutual goal and obligation for regulators in the Chinese mainland and Hong Kong to guarantee the openness and fairness of the capital markets and protect investors' interests."
According to Deng, mutual fund recognition standards will be consistent across both markets. He added that a fund would need to have been established for at least one year and have at least 200 million yuan ($32.7 million) in assets. Based on those criteria, about 100 Hong Kong-based and 850 mainland-based funds will qualify.
The initial quota will be 300 billion yuan in each direction.
"The program will promote cross-border fund flows," said Hong Hao, a managing director and chief strategist at BOCOM International Holdings Co Ltd.
Hong noted that many mainland mutual funds have heavy equity weightings in their portfolios and the mainland market remains buoyant, so any shift into Hong Kong stocks could be slow.
"Over time, however, the expectation for cross-border flows to increase will be strong, and that will support the markets in the mainland and Hong Kong," said Hong.
"It is likely that the quota will be allocated to fund houses based on the 'first come, first served' principle. History shows that the CSRC will raise the quota quickly if it is fully used by participants," said Paul Smith, president and chief executive officer of the CFA Institute.
Smith added that investors would soon get further details, including the currency conversion mechanism.
Smith said that the program may drain some money from the red-hot A-share market, as some investors would diversify their holdings, although that might not apply to short-term investors.
A fund manager in Hong Kong who declined to be identified said the move is a major initiative that will directly benefit fund companies that rely heavily on channels like banks, or brokerages, while those listed with the stock exchanges may be less influenced.
Meanwhile, stocks rose on Friday in the mainland, with the Shenzhen Component Index capping its biggest weekly gain since 2008, as investors speculated the government will boost technology spending and brokerages rallied after Guotai Junan Securities Co said it plans an initial public offering.
Leshi Internet Information & Technology (Beijing) Co, which has the biggest weighting in the ChiNext index in Shenzhen, jumped 10 percent. Guotai Junan International Holdings Ltd, a unit of Guotai Junan Securities Co Ltd, surged 9.6 percent to a record in Hong Kong.
Huatai Securities Co rose 4.4 percent in Shanghai. People with knowledge of the matter said the brokerage is poised to raise $4.5 billion from a first-time share sale in Hong Kong.
The Shenzhen Component Index was up 1.09 percent to 16,045.80 points. It advanced 12 percent this week for the biggest weekly gain since November 2008. The Shanghai Composite Index climbed 2.83 percent to 4,657.60.
Technology companies rallied this week after the State Council, China's cabinet, announced its "Made in China 2025" plan aimed at making certain manufacturing industries more globally competitive.