An increasing number of Chinese companies are emerging on the world stage as they strive to establish their brands outside the country. China Daily reporters asked the heads of some of the best-known how they present themselves overseas, how they compete against their global counterparts and how they might use lessons learned from their multinational rivals. This report, the second in our series, is by Lyu Chang and Xie Chuanjiao in Zhengzhou.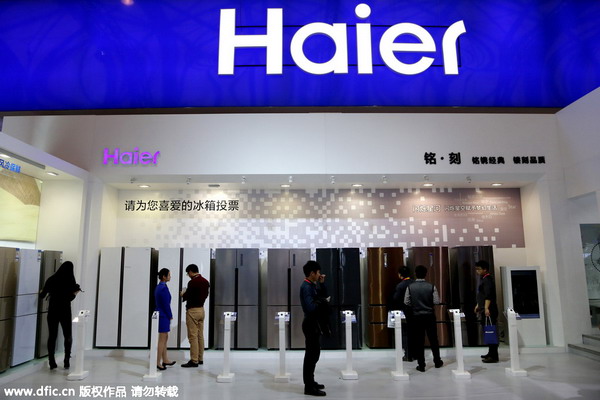 Visitors look at refrigerators at the stand of Haier during the 2015 Appliance and Electronics World Expo in Shanghai, China, March 13, 2015. [Photo / IC]
As Chinese companies spread their wings abroad, some have been bogged down due to the "low price and poor quality" of their products. But one Chinese company has not only managed to buck the trend, but has also carved out a niche for itself with its consumer electronics products.
So much so that Haier Group, one of the largest home appliances and electronics makers in China, is now a household name in overseas markets for cutting-edge high-tech products and stands several notches higher than most of its Western peers in product research and development.
While research is at the forefront of its overseas push, Haier has also charted a multi-pronged development strategy that is different from the one it follows in the domestic market.
"For developed markets such as Europe and the United States, our goal is to enhance our brand recognition with high-end and innovative goods, while in the developing markets, grabbing more market share will be our goal," said Li Pan, vice-president of Haier's home appliance industry group.
Currently, the biggest overseas market for Haier is India, which has experienced economic growth faster than China, and will see an expansion in production this year, Li said.
He said Haier is exploring a possible merger and acquisition deal in India, but declined to disclose details.
Apart from India, Haier is also focusing on other developing countries such as Indonesia and Pakistan, markets that it believes have immense potential for growth.
Besides market development, Haier has also set its sights on localization of production, research and development and marketing activities, said Li, who is also responsible for the company's overseas business.
Innovation is another strategy that has paid dividends for Haier in Europe and helped it counter competition from European home appliance makers like Robert Bosch GmbH and Siemens AG from Germany, and Electrolux Group of Sweden.
The company's 1-meter-wide refrigerators are ranked numero uno in terms of capacity in the European market. The Haier Intelius line of washing machines has the highest energy-efficiency rating, according to the European energy efficiency standards.
On Appliance Online, the United Kingdom's leading online retailer (ao.com), a fridge from Haier costs about 400 pounds ($600), as opposed to a Bosch fridge that costs up to 700 pounds.
Haier Europe, whose headquarters is in France, has subsidiaries in Belgium, the UK, Italy, Poland, Russia and Spain. Sales for the 2014-15 fiscal year reached $550 million, 10 percent more than in the previous year. It also employs about 400 people in Europe in various capacities.
The company has already reaped the rewards of following a focused approach in overseas markets, when it became the world's top home appliance brand in 2009 with a market share of about 5.1 percent.
Haier started its efforts to go global in 1989 by exporting niche products. In 2006, Haier said it planned to launch a new global development strategy to bolster its global brand awareness.
"For Haier, the goal is ... to enhance its global image and be termed a global brand with high value," Li said.