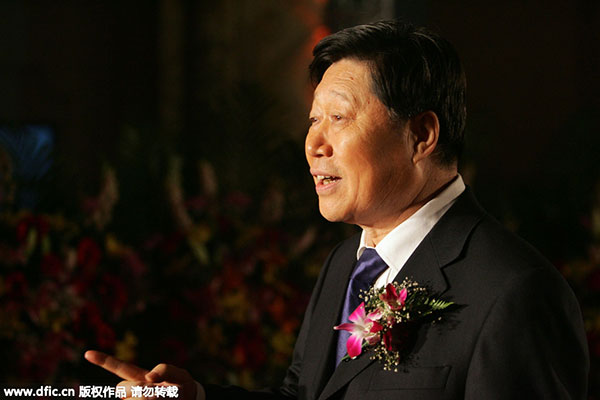 Zhang Ruimin, Chairman of Haier Group, arrives for the 2009 CCTV China Economic Figures award ceremony in Beijing,  Dec 23, 2009.[Photo/IC]
BEIJING - Chinese home appliance manufacturer Haier is transforming itself into an open platform for innovators.
From a local fridge maker on the verge of bankruptcy in the early 1980s, Haier has grown into a household name with more than 200 billion yuan ($31.4 billion) in revenue in 2014.
Transformation brought the dying brand back to life 30 years ago, and now Haier is looking to the old recipe to reinvent itself for a new age, said chairman Zhang Ruimin.
Enterprises that used to consider themselves as the center of business circles are nothing more than nodes of the Internet, and all their efforts should be client-oriented instead of customer-oriented, Zhang told a forum on business model innovation in Beijing on Saturday.
A client differs from a customer in essence, with the latter doing one-off deals while the former interacts with the producers and involves themselves in the manufacturing process, he added.
Haier dismantled its traditional corporate structure in favor of an open platform where people can bring in their own ideas and resources to develop new products and services, Zhang said.
In the past ten years, Haier got rid of 20,000 middle management personnel. Zhang's goal is to turn Haier into a giant incubator and turn employees into innovators.
Now there are only three types of people at Haier: the platform owner, micro-businesses and innovators. Without middle management, Haier is no longer a "leader" of micro-businesses, but platform builder and startup service provider, he added.
Leishen is one of Haier's newly incubated companies. Four employees from Haier's IT department started the company and developed a new brand of laptop specifically for Internet gamers after analyzing 30,000 user comments and complaints. The unit generated 250 million yuan in revenue last year and has already attracted an initial round of venture capital backing from outside of Haier. Leishen is now valued at up to 150 million yuan, and Haier's initial investment was only 1.9 million yuan.
"Haier is only a platform for innovation and every employee can be be their own CEO," Zhang said.
The "ecosystem" is now home to more than 60,000 micro-businesses and innovators and 470 projects which have attracted 1,328 venture capital firms. About 77 percent of the micro-businesses have an annual revenue of more than 100 million yuan, and each micro-business has no more than eight core members.
Since this transformation process started ten years ago, Haier's annual revenue has doubled to 200 billion yuan, and its profits are 12 times more.