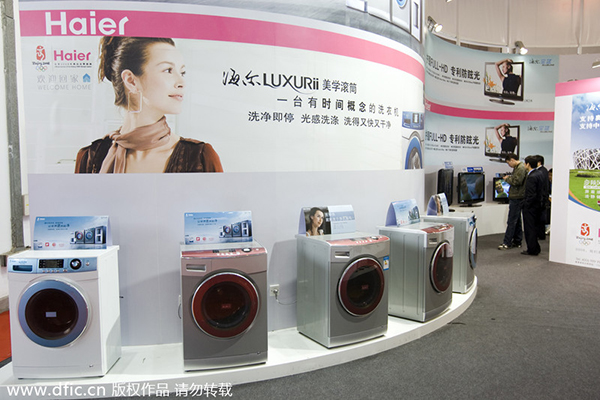 Haier's washing machines on display at the Appliance World Expo. [File photo/IC]
Manufacturers discover there is life beyond fridges and washing machines
The Chinese white goods manufacturer Haier Group is looking to increase its sales in Europe by extending its product range to include consumer electronics and energy management systems.
Haier's expansion in Europe reflects a growing trend of Chinese white goods firms expanding their operations internationally after securing significant market share at home. Two of the other companies are Changhong Electric Co Ltd and Hisense Electric Co.
In the second half of this year, Haier will launch a smartphone, connected watch and tablet computer in Europe, with the marketing emphasis being on high-quality products at affordable prices.
"Haier is keen to provide solutions for the home," Yannick Fierling, chief executive of Haier Europe, said.
"We are already providing white goods, but we are expanding into consumer electronics and energy management systems, such as solar panels and heat pumps. We are building connected platforms."
An example of connected products is a Haier cell phone application that controls one of the company's washing machines, he said.
"Currently our biggest challenge in Europe is brand recognition. We have great products, but not enough consumer recognition, so we need to promote our brands and make consumers understand the quality of our products, and become more visible," Fierling said.
A smartphone would generate more brand awareness than products such as refrigerators, he says. "If you have a phone in front of you, and you hold it in your hands, it creates great brand recognition."
To break into the smartphone market, Haier's phones are designed to offer value for money. Haier's new Voyage smartphone collection, to be launched in autumn, features three products: the G30, V3 and V5.
The most expensive, the V5, is a 5.5-inch (14 cm) full HD screen with support for gesture control, running on a 1.7 GHz 64-bit processor. It retails at 349 euros ($388).
Another core product Haier is launching alongside the smartphone is a connected watch, designed for children between the ages of 2 and 8, with a button that can be used to alert parents when the child is in trouble.
Fierling said the connected watch is an example of Haier's brand ethos of listening to customers. "We are responding to a clear consumer demand, because in our environment parents are getting more and more concerned and connected, and Haier has noticed this."
Haier, founded in Qingdao in Shandong province in 1984 by Zhang Ruimin, the chairman and chief executive, started as a producer of refrigerators. Over the years it moved into a range of white goods, including microwave ovens, coolers, and consumer electronics and other products.
It quickly expanded into international markets, initially by opening up factories in emerging economies such as Indonesia, Malaysia and the Philippines, and operating in mature markets through original equipment manufacturer contracts.
By the turn of the century Haier had started to sell branded products in developed markets, championing its "zero distance" to customer value. In the United States, it entered the market by selling compact refrigerators to college students, filling a gap in the market. Within a few years, Haier had gained 53 percent of the market share.