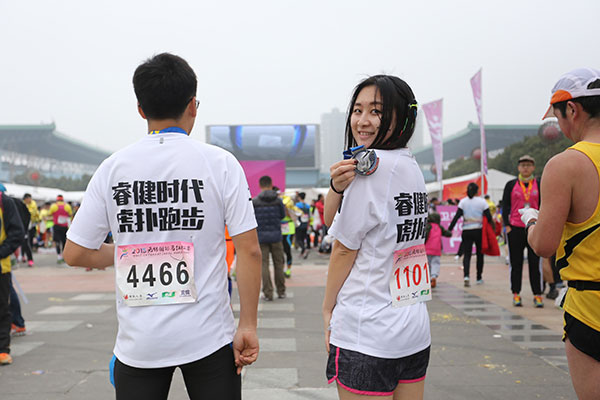 Sports fans, wearing FitTime shirts, at a marathon on March 15 in Wuxi, Jiangsu province.[Photo provided to China Daily]
Venture capital firms are moving into the sports industry as the market grows, fueled by China's wealthy middle class.
Angel investment company ZhenFund, which was founded in 2011 and is based Beijing, has taken a stake in FitTime, a mobile app focusing on personal fitness, without revealing detailed financial information.
The company has also invested in Feel, another mobile fitness app, Beastbikes, a cycling app, and Cikers, an online club for soccer fans. Again, no financial numbers have been released. "The Chinese sports industry is expanding rapidly alongside the country's growing middle class," Gu Minman, investment principal of ZhenFund, said. "It's a historic time for sports entrepreneurs and investments."
A report released by Qilu Securities Co Ltd, which specializes in research and funding information in China, revealed that investment in the country's sports industry was worth 320 billion yuan ($51.6 billion) in 2013.
This represented just 0.56 percent of the country's GDP against global national investment averages of 2 percent. The annual per capita consumption on sports here was only $27 against a global average of $217.
But the report predicted that investment will rise to 612 billion yuan by 2017, growing annually by around 17 percent during that period.
"We look at deals that combine sports with the Internet, because the growing middle class of China has a large online presence," Gu said, adding that fitness sites were driving growth on the Web. "I believe the sports industry will produce billion-dollar companies in the future."
Last year, FitTime received angel funding from ZhenFund and K2VC, without disclosing detailed financial information, before MatrixPartners China pumped in another round of investment.
According to Wei Tao, a partner at FitTime, the company has 800,000 fitness fans on its Weibo account and one million on its WeChat account-two of China's leading social media sites.
"If the past 10 years were golden for the real estate sector, the next 10 will belong to the sports industry," Wei said.
Wen Kai, vice-president at venture capital firm Keytone Ventures in Beijing, is just as upbeat about the potential growth of the sports industry.
Small fitness studios are springing up in communities in Beijing, Shanghai and other major cities as gyms in trendy shopping malls struggle to cope with rising rents.
But finding a brand that will last and expand can be difficult.
"There were so many sports startup companies last year, but they were usually very small and they were very similar," Wen said. "We plan to wait and see where the growth areas are before investing in the business."
Apart from venture capital and private equity companies, sports product firms are also looking for investment opportunities. Toread Holding Group Co Ltd, which specializes in outdoor sports products such as clothing, set up a fund of 300 million yuan in January for acquisitions and investments in the industry.
Guirenniao Co Ltd, the sportswear company, and Hupu, one of the country's leading online sports games and news sites, have also set up a joint investment fund, totaling 2 billion yuan.
"The Chinese sports market is still small, but it has huge potential, and that's why investors and companies are moving into the industry," Li Yuebo, an analyst at Industrial Securities in Fuzhou, said.