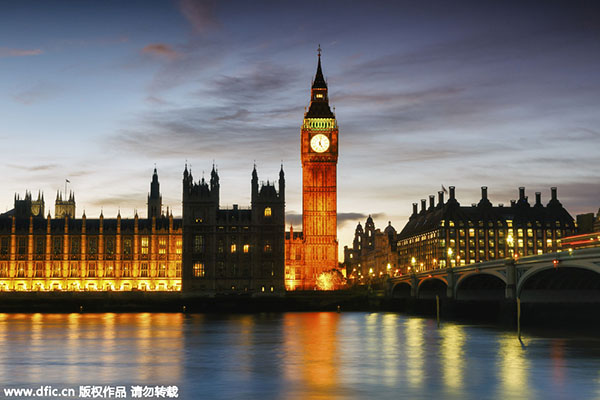 Big Ben and Houses of Parliament at dusk in London, UK on November 7, 2014. [Photo/IC]
Chinese private equity and other financial investors are increasingly participating in Chinese outbound mergers and acquisitions into the UK, which has significantly grown in recent years at unprecedented speeds.
These trends were discussed at the second China Britain Investment and Partnership Forum on Friday in London, which is an event organized by DealGlobe, a digital mergers and acquisitions platform headquartered in London.
Whilst some key Chinese acquisitions in to the UK are still done by manufacturing and service companies looking to gain overseas technology and markets, an increasing number of them are done with participation from specialist financial companies like venture capital and private equity funds as joint investors or initiators of deals.
This is because often private equity and other financial investors have more knowledge of local markets and better access to information and networks, as well as their knowhow of post merger acquisition strategies, so their participation can be a valuable part of a deal.
For example, the private equity firm China Equity Fund joined forces with other coinvestors to take a 37.5 percent stake in the British carmaker Aston Martin in 2012, so that it can use its knowledge to help the brand expand further into the Chinese consumer market.
John Liu, partner and managing director of China Equity Fund, said that as the Chinese market becomes increasingly international and as domestic consumption and technology needs increases, significant benefits can be gained by foreign firms that expand into the Chinese market.
With a Chinese financial investor on board, Western firms with the right products and technologies for the Chinese market would be able to grow in the Chinese market more effectively and with a more targeted strategy, Liu said.
"In the process of helping Western firms grow in China, we can help them develop and manage their brand image, manage their risks and costs in China, which will effectively create more potential for them to generate profits in the future," he said.
China Equity Fund is also in the process of setting up a subsidiary in the UK, so that new opportunities locally can be understood and tackled in a more efficient and timely manner, he said.
Terry Liu, president of China Minsheng Investment Capital, another private equity firm, says he believes it is beneficial to hold a diversified portfolio of overseas assets, and he says as a financial investor it is important to spot industries that have good growth potential and take a leading position in such investments.
Liu says he is currently visiting the UK for the second time and has already found some potential opportunities in the UK, and he hopes China Minsheng Investment Capital can launch strategic cooperations at a later stage to realize these opportunities.
Another big player in the UK market is the Chinese conglomerate Fosun Group, which owns two funds that are currently actively investing across Europe, which are the China Momentum Fund and the Pramerica-Fosun China Opportunity Fund.
Already Fosun has acquired strategic assets in the UK and Europe, leveraging on both its financial strength and also industry capability in the Chinese market, which can effectively be used to create post-acquisition integration synergies as strengths of the acquired firms can be combined with Fosun's own subsidiaries in China.
Carrie Liu, executive director of both funds, said that she believes China's strategic shift from a manufacturing based economy to one dominated by innovation and consumption has provided immense opportunities for foreign firms to grow in China, and Fosun's understanding of Chinese consumer needs can be used to accompany Western firms on this journey.
"In the UK, we focus on investing in brands, food products and good technology companies, all of which are needed by Chinese consumers. In assessing opportunities, we make sure that the companies we acquire have the right mindset to become a truly global company," Liu said.
The growth of Chinese inbound M&A into the UK has also created a vibrant market of consultants, bankers and other agents on deals who help to connect investors with suitable targets.
The growth of such a market has also prompted the founding of the M&A platform DealGlobe, which provides a platform for agents serving both target firms and investors to connect with each other. Founded in 2014, DealGlobe now has about 40 staff, half of which are based in the UK and the other half in China.
Feng Ling, CEO of DealGlobe, said that DealGlobe hopes to serve small and medium scale M&A deals by using its professional staff and understanding of both the Chinese and Western markets to help deals become successful. It will then generate profits by taking a share of consultants' commission.
"We want to create a new platform for M&A flows by increasing the information and networks accessible to both the investors and investment targets, so that Chinese firms can have the opportunity to invest in the most suitable projects," Feng said.