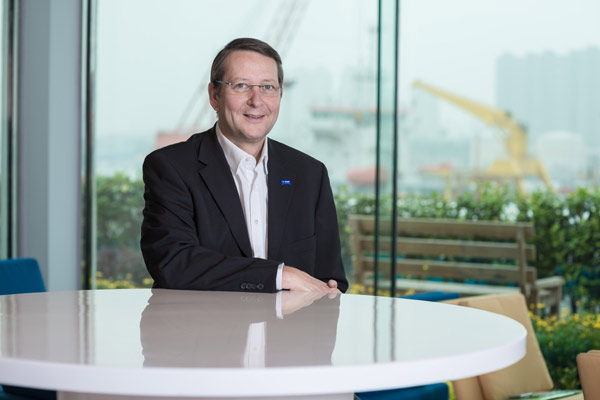 Albert Heuser, president and chairman of BASF Greater China, says his company will look to capitalize on growing business opportunities from China's economic restructuring, and strive to build more laboratories and offices in China.[Photo provided to China Daily]
Innovation, R&D focus will power BASF in China, says top official
Unlike most of his peers, Albert Heuser is rather proud of the recent transformation that BASF SE, the world's largest chemical maker by sales, has achieved in China.
"We have shifted from 'Made in China' to 'Created in China' in a clear and visible manner," he said during an exclusive interview with China Daily in Shanghai.
Heuser, the president and chairman of BASF Greater China, said "creation and innovation" will continue to be the main drivers for the company, even as it strives to make Shanghai the mainstay of its global research and development operations.
BASF currently has about 8,000 employees in China, its third-largest market after Germany and the United States. The company entered China 130 years ago, 20 years after it was set up in Germany.
Heuser, who has spent nearly 28 years with BASF and is also president of the company's Asia-Pacific functions, admits that despite the challenges, the experience in the China market has been truly rewarding. As someone who believes that success is a result of teamwork, he says the added emphasis on communication and regular feedback will bring more rewards. "I always believe that a reflection of what we could have done better would provide the necessary encouragement to do better and create a positive atmosphere."
BASF, Heuser said, will look to capitalize on growing business opportunities from China's economic restructuring, and strive to build more laboratories and offices in China for research and development and to fuel innovation. With major investments in Nanjing, Shanghai and Chongqing, the German company is already one of the largest foreign investors in the chemical industry.
Despite his busy schedule, Heuser took time off to share with China Daily his experience and how he perceives the future for BASF in China. Excerpts:
What are BASF's plans for China especially in terms of manpower, investment and R&D?
At BASF, we have an ambitious plan to have at least 15,000 researchers globally by 2020. At least one-fourth of the research resources will come from the Asia-Pacific region, mostly from China. We would put this at about 3,500 people. The US will account for about one-fourth of the research hires, while the balance will come from Europe.
We have about 500 people working in our Pudong R&D facility in Shanghai. We are extremely excited about the huge growth opportunities in China and plan to invest 90 million euros for our second phase of expansion. We consider it as the right move at the right time.
The next-level of laboratories and offices from this investment is likely to start operations within this year. By 2016, we will hire hundreds of researchers including many local Chinese employees, in addition to those working with Chinese academia to develop more new products.
I am very confident that we will have very strong R&D capabilities. We have decided to bring more R&D projects to China and other Asian countries. Most of these projects were traditionally based in Europe.
How important is innovation for a company like BASF and what have you been doing to develop it in China?
BASF is a company that was built on innovation. We believe in nurturing innovation and it has been an integral part of our R&D initiatives and core values. We believe people are the key and people will ultimately make the difference. We have a lot of knowledge in the heads of our 112,000 employees globally and there is an expert for almost everything in the company. Sometimes the challenge is to find this expert, so it is important to get a good overview and constantly connect with people.
Do you plan to hire more Chinese employees and nurture local talent?
Absolutely. It is a key task for us going forward and one to which we are committed.
What is your view about the level and availability of intelligent talent in China?
It is a fascinating question. I have to say that I am extremely excited and impressed with the level of talent that we have been seeing over the years in China. But I think there is a lot more that we can do. For starters, I want visit to more and more universities, especially Tsinghua University, Peking University, Fudan University etc. There are lots of excellent researchers and very capable persons in these institutions, who can be of great help to us. Some of them also have international research experience, which is a big bonus. Needless to say, our vision about China has been shaped by the nation's strong R&D capabilities and rich talent pool.
Though BASF is known as the biggest chemical company in the world, how would you describe your role in China?
We have been a chemical company for over 150 years now and have amassed lots of rich experience. China has always been a key market for us and we have moved on from just selling dye stuffs to the garment industry in China. And at the beginning of last century, BASF invented the technology to produce ammonia, and our scientists won a Nobel Prize for that invention. So innovation has always been at the forefront of all our initiatives and this is something that we want to grow in China.
That said we are also keen to step up our work with the automotive industry to reduce emissions. We are also keen to expand our presence in sectors like food, nutrition and health.
What kind of environmentally-friendly products does BASF have in its portfolio?
We have developed an efficient automotive catalyst for the exhaust system of cars. We have also developed another catalyst material that can be used in the filtration systems of chemical plants to remove poisonous emissions.
At the same time, we have also developed solutions for effluent gas treatment, processes that remove toxic chemicals. We are also developing waste water treatment chemicals for wastewater plants.
How different is China for BASF, when compared with other developed markets?
In China, we have an excellent manufacturing footprint. So we have our own production capabilities. This means that we will focus on the still fast-growing segments in China, like vehicles, electronics, better food production, better food processing and packaging.
At the same time, we will strive to tap more markets in western China. This is another important part of our strategy. For this, we plan to do a couple of investments, for instance, in Chongqing, or in the south, Maoming in Guangdong Province. We have also teamed up with a partner for a production facility in Korla, near Urumqi in the Xinjiang Uygur autonomous region.
You are talking about building manufacturing plants in second-and third-tier cities. Do you think the market is good for sustainable development? Are there any customers in the western region?
We are extremely positive about growth prospects in these regions. For instance, if you look at places like Chongqing and Chengdu, you will see that these areas are hotspots for the automotive industry. Agriculture is obviously strong in these regions. And if one were to look at future opportunities with the "Belt and Road Initiative", then Xinjiang and Chongqing are already connected to Europe and the neighbors. It is these aspects that will enable us to expand and also look at new markets.
How do you perceive your competition in China and what do you think are your main challenges?
There is no doubt that we have intense competition in China, especially from domestic companies. But competition is always something that inspires us to make an extra effort and keep on going. Our track record of 150 years shows that we do not shy away from competition. We just have to be a little bit better, and faster than the competition. So, the next step is to further enhance the research and development facilities in China. We think this will make us faster and better.
What is the best way to break the ice with Chinese businessmen?
That is a clever question. The best way is to take time, listen, be open and honest, build up trust, and for sure have a good dinner. That works out well. I also believe that is important to have some joint wins and joint discussions. I would not say it is just one thing. Rather it is a combination, to listen and engage.
How would you describe Chinese businessmen?
First of all they are entrepreneurs in their own right. Second, I see the personal connection from leader to leader is so important for the entire relationship between all levels. So the leaders have to build up trust for relationships. If you were to ask me in a few words, then I would say it is building trust. Third, Chinese businesspeople for sure want to always understand if it is an equal win-win opportunity. This I would describe as equality.
What are your hobbies?
I do not have too much time for hobbies. But I am always very excited with everything that is connected with water, meaning swimming, diving and sailing. I like to sail on a boat, play golf and read.
Do you go back to Europe very often?
Yes. I go from time to time to give reports about what is going on in China and how things are developing. I also tell my colleagues that China is really diverse, not only as a market, but also to work in.
Which Chinese city has impressed you the most? And what other cities do you want to explore in the future?
This is a difficult question because it is a decision between Beijing and Shanghai. It is also very difficult to tell because Beijing has so much of history. Beijing perhaps reflects more Chinese culture and history. Shanghai has less history, but it is beautiful to see how it has grown. It is perhaps more vivid, more open. So perhaps I will decide for Shanghai.
Are there any other cities that you want to visit?
I have seen a lot of cities, but I have not yet been to Kunming (capital of Yunnan province). I would also like to go to Southwest China.
What kind of green lifestyle do you practice?
At my home in Germany, I have a co-generating heating system. It is motor-driven by gas, producing heat and generating electrical power. I produce my own electrical power, and the heating is a by-product.
What's your favorite book (or the book you are reading now)?
Actually I'm reading two books in parallel. The first is Zhang Weiwei's The China Wave: Rise of a Civilizational State. The second is Breaking New Ground by Michael Grabicki and it deals with 130 years of doing business in China.
What do you consider to be your greatest achievement?
My family, of course and the happy moments spent with them. I fondly remember the times we spent together and the togetherness we had. My biggest achievement is that we have stood together through thick and thin.