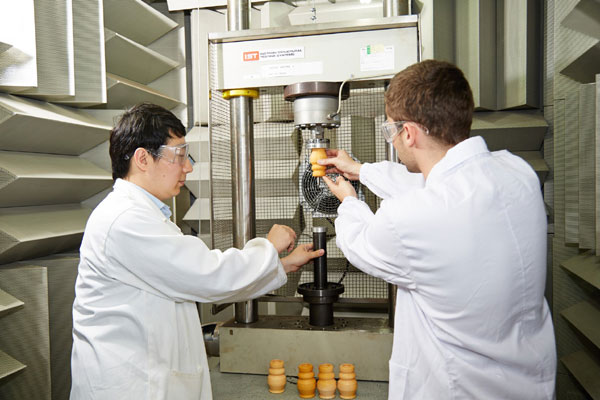 BASF technical experts test the noise level of Cellasto components at the expanded technical center in Shanghai. [Provided to chinadaily.com.cn]
BASF, the world's leading chemical company, initiated its three key capacity expansion projects for performance materials at the Pudong site in Shanghai on Thursday.
"This is a firm with part of its strategy to expand business in the Chinese market," said Albert Heuser, chairman and president of BASF China.
The three projects aim to produce more engineering plastics and materials for the transportation, construction,
high speed rail
way, textile, footwear and automobiles industries.
He said the Chinese market is big with great potential, which generated $71.1 billion worth of chemicals in 2013, accounting for 60 percent of the whole Asian market.
BASF estimates that the Asia-Pacific market for engineering plastics will grow on average by about 7 percent per year. This growth is driven by the increasing use of engineering plastics in various segments, including transportation, construction, high-speed railway, and the electrical and electronics industries.
Its capacity for Ultramid and Ultradur, two materials used in automotive parts and innovative applications, will double from the 45,000 tons currently to more than 100,000 tons per year, making it BASF's biggest engineering plastics compounding facility in Asia Pacific, said Raimar Jahn, president of BASF Performance Materials.
"The expansion, which is operational more than six months ahead of schedule, also includes a compounding line for specialty grades that enables BASF to tap the burgeoning market potential for specialty applications," Jahn said.
With this project and the new compounding plant in Yesan, Korea, which is expected to begin operations at end of 2015, BASF's overall compounding capacities in Asia will increase from the current 130,000 tons to a total of 225,000 tons, he said.