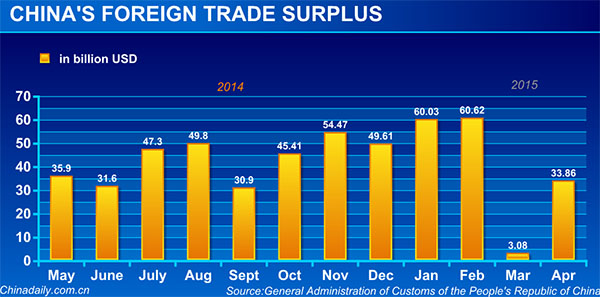 BEIJING - Foreign trade continued to weaken in April but exports decline narrowed, official data showed on Friday.
Last month, the foreign trade volume dropped by 10.9 percent year on year to 1.96 trillion yuan ($320.56 billion) from a year earlier, following a 13.5 percent decrease in March and an 11.3 percent increase in February, said the General Administration of Customs (GAC).
April's exports declined 6.2 percent, 8.4 percentage points less than the 14.6 percent slump in March that posed narrowed declines.
Imports remain anemic, extending contraction from March's 12.7 percent to 16.2 percent last month.
Nomura's research believed the negative declines in commodity prices remain a major drag on import growth, in addition to softening domestic investment demand.
Total foreign trade posted a 7.3 percent decrease in the first four months, falling to 7.5 trillion yuan, with exports rising 1.8 percent and imports dropping by 17 percent, according to GAC data.
Trade surplus soared by 85.2 percent to 210.21 billion yuan last month, while expanding 3.4 times to 965.37 billion yuan in the Jan-April period, the GAC said.
After discounting seasonal factors, April's trade volume declined by 10.6 percent, a little better than the 10.9 percent drop.
"Impacted less by seasonal factors, the April figures showed a more real picture of China's foreign trade," said Liu Xuezhi, a researcher with Bank of Communications.
He said the continuous slower growth of exports to major trade partners indicated external environment has not yet improved much.
China's trade with the European Union, its biggest trade partner, waned by 4.9 percent from January to April, while that with the United States, the second largest, rose 2.3 percent. Trade with Japan plummeted by 11 percent during this period.
Data proved that the global trade growth speed has been slower than the world GDP expansion for three-consecutive years since 2012, and the trend is estimated not to reverse.
2015's global trade growth target was lowered to 3.3 percent, according to a report by the World Trade Organization.
Zhou Mi, a researcher with the Ministry of Commerce, said the unbalanced recovery of trade partners is another factor curbing China's foreign trade.