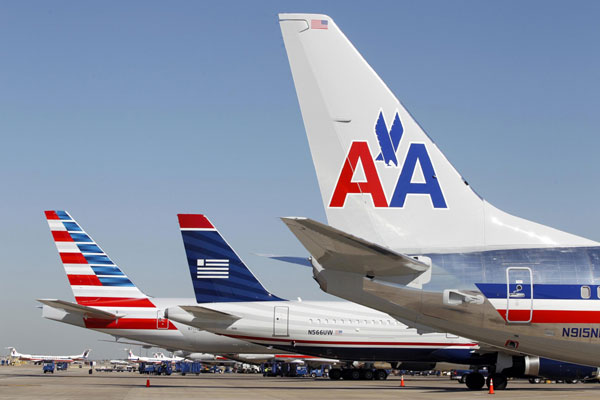 The tail sections of a newly designed American Airlines aircraft (L), a US Airways aircraft (C) and a traditional American Airlines aircraft are lined up at Dallas-Ft Worth International Airport, Feb 14, 2013.[Photo/Agencies]
A young mother surnamed Li brought her 8-year-old daughter to the National Center for the Performing Arts for the first time one evening at the end of last month, to enjoy the famous ballet, Swan Lake.
Li said her daughter, who is learning ballet, loved the performance, which was held as part of the ongoing 15th Beijing Arts Festival, which ends on May 30.
The festival, sponsored for the fifth year running by American Airlines, is considered the biggest spring arts event in Asia.
The United States carrier first introduced the concept of strategic arts partnerships at the festival in 2011, said Suzanne Boda, the company's senior vice-president for Asia, Canada and Europe.
"This festival meets the same goals as American Airlines-promoting cultural ties between countries and peoples," said Boda.
Offering what is claimed to be the world's largest airline fleet, American Airlines has helped gather 42 arts groups, 104 pop groups and DJs from 25 nations and regions, including the US, Latin America, France and Japan, which will present more than 100 theater shows, half of which will be outdoors.
Boda said by continuing to expand its flight services between China and the US, the company has greatly improved the cultural and economic exchanges between China and the rest of the world.
Erwan Perhirin, its vice-president for Asia Pacific, said the Beijing Arts Festival is the airline's biggest single corporate social responsibility program, but the carrier is also involved in other cultural programs in China, which help strengthen its role and position as an international cultural bridge.
Earlier this year, it was selected, for instance, as an official partner of the NBA's Chinese New Year Celebration, while it sponsored the Cuban jazz pianist Alfredo Rodriguez's performance in Shanghai in 2014.