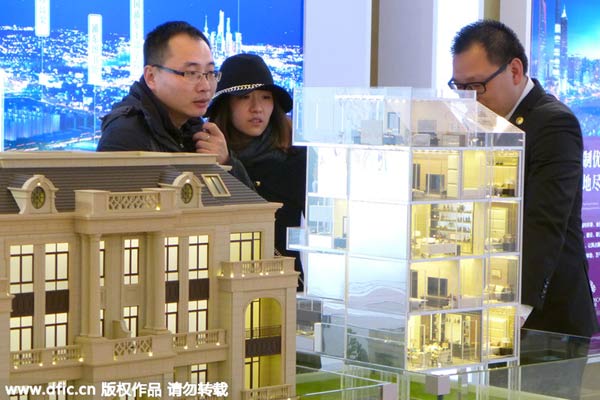 Chinese homebuyers look at models of residential apartment buildings during a real estate fair in Shanghai, Dec 13, 2014. [Photo/IC]
Shanghai authorities on Thursday decided to raise the city's ceiling for home loans under the provident fund, bringing further good news for the city's home buyers following the central government's easing of the down payment policy at the end of March.
Individual first-home buyers can receive a maximum of 500,000 yuan ($80,553) mortgage backed with their provident funds, up from 300,000 yuan, and the ceiling for such loans applicable to households was increased from 600,000 yuan to a million yuan, said the statement published by Shanghai Provident Fund Management Center on its website.
Meanwhile, the ceiling for second home buyers was increased to 400,000 from 200,000 yuan for individual buyers and to 800,000 yuan from 400,000 yuan for family buyers.
The public housing funds are drawn from a reserve fund which urban registered employees and employers are obliged to contribute to. Employees can access to the fund for home purchase loans at better rates than those offered by commercial banks.
The ceiling increase will have a pushing effect for the Shanghai property market, said Lu Wenxi, senior manager from a real estate agent Shanghai Centaline Group, cited by the Shenzhen Securities Times, a paper that covers the securities market, on Friday.
As China announced to cut the minimum down payment requirement for second home buyers to 40 percent from 60 to 70 percent on March 30, industry insiders said the consecutive easing policies will bring a positive influence to the Shanghai property market, and accelerate the speed for realty enterprises to sell their inventories, according to the newspaper.
According to data from E-house China R&D Institute, a housing research center, during the Qingming holidays from April 4 to 6, normally a peak time for home purchasing, the transaction amount of Shanghai's newly built homes decreased from last year's 446 to 229 this year.
Compared to other first-tier cities, Beijing, Guangzhou and Shenzhen, both of Shanghai's transaction areas and volumes of the newly built homes were the lowest during the period.
The city's lands sales were 182.56 hectares in the first quarter, dropping by 37.65 percent year-on-year, the newspaper reported.