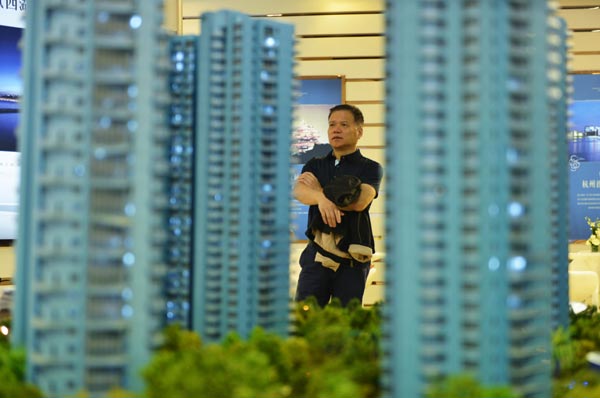 A man examines property models at a housing sales center in Hangzhou, capital of Zhejiang province. Some potential buyers anticipate further easing measures to be taken by the government to kick-start the property sector. [Photo/China Daily] 
Easing policies lure buyers, but some still prefer to 'wait and see'
Property agents in Shanghai have reported their "busiest weekend" in a quarter, over the three-day Qingming Festival.
However, some also detected a "wait-and-see" attitude among some potential buyers, who still anticipate further easing measures to be taken by the government to kick-start the sector.
On March 30, the central bank and the housing and banking authorities announced a relaxation of loan requirements.
For homebuyers who are applying for a mortgage for a second home, the minimum down payment is cut to 40 percent from the previous level of 60 to 70 percent. The minimum down payment for first-time homebuyers using public housing funds is cut to 20 percent, compared with the previous level of 30 percent, the central bank said.
On the same day, the Ministry of Finance also announced that homes bought at least two years ago would be exempt from capital gains tax. Previously, only homes bought at least five years ago were exempt from the tax.
According to data from fang.com, a property information platform website, 410 transactions were made during the three-day break in Shanghai.
In Shenzhen, meanwhile, property transactions continued to rise, said agents, after the boom during the three-day holiday, as new policies enable more residents to buy a second home for improving housing conditions.
Luo Junlei, an agent with Hanyu Property Ltd in Shanghai, said the latest measures had certainly helped business over the holiday weekend.
"We had to work 12 hours a day during the three-day break as potential buyers flocked to see their potential next homes-I did not even have time for lunch yesterday." he said on Tuesday.
He said some buyers had told him the latest easing policies had encouraged them to go ahead and buy a home this year; however, as buying a home costs "serious money", they were keen to see if any more options are introduced, making the cost even lower than that of now.
Transactions made during the three-day break were mostly spacious middle-and-upper-end apartments in downtown districts, according to Jenny Wu, director and head of residential operations for East China at real estate firm DTZ.
Gu Hanchun, a 57-year-old potential homebuyer, told China Daily: "I have visited seven apartments during the three-day holiday and two of them look good to me.
"But I think I will wait for another month to see if more discounts can be offered on mortgage rates, and if more homeowners will decide to let pro-owned apartments, pushing up supplies and lowering prices."
Some analysts think the new policies introduced in late March mainly benefit those buyers with potentials for improving their housing conditions.
In some other cities, such as Jiangsu province's Suzhou, people rarely make property transactions during the Tomb-Sweeping Day breaks because traditional beliefs consider it inauspicious, some sources said.
The new policies' impacts are also different due to diverged supply and demand in some cities.