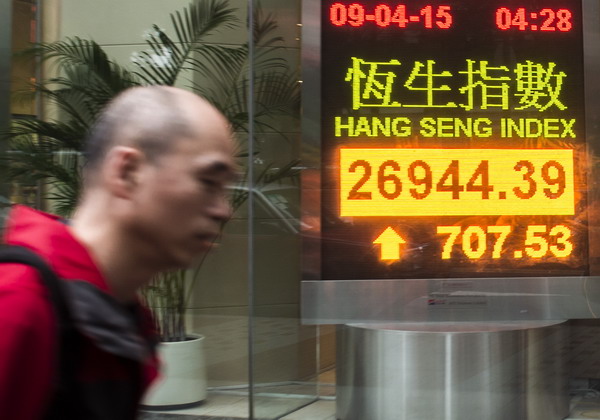 A man walks near an electronic board showing the Hong Kong share index outside a local bank in Hong Kong, April 9, 2015. [Photo/Xinhua]
New opportunities for Hong Kong investors brought about by mutual market access won't come without risk, said Charles Li Xiaojia, chief executive officer of the Hong Kong Stock Exchange, on his official blog on Thursday.
Mainland investors, who are different from their international peers in asset values, risk awareness and regulatory cultures, will bring new challenges and risks, said the CEO, urging local retail investors to exercise caution in a more active market.
The Shanghai-Hong Kong Stock Connect, linking bourses of both cities, launched in November and is the first time many mainlanders are able to invest overseas.
After months of appearing to have been neglected by investors on both sides, the program has sprung to life, in part led by bullish market sentiment.
The southbound daily investment quota was fully used for two consecutive days, as the benchmark Shanghai and Hang Seng indexes both rallied to seven-year highs.
"With the start of mutual market access, international investors who emphasize value investing are having their first historic encounter with mainland investors," said Li in his blog, adding that the impact on both sides will be profound.
"There will be certain chemical reactions as they meet, leading the development of China's capital market into a new era," he said.
The Hong Kong Exchange chief also urged mainland and international investors not to rush making full use of the program, as the trade link is "a bridge that was built to stay open".
Under the current rule of Stock Connect, mainland players can invest a net value of as much as 250 billion yuan in Hong Kong stocks with a daily cap at 10.5 billion yuan ($1.7 billion), while overseas investors are allowed a net value of as much as 300 billion yuan in A shares with a daily cap at 13 billion yuan.
Brokerage sources said the securities regulator is considering raising or scrapping the daily quota for the program and is listening to feedback from market players.