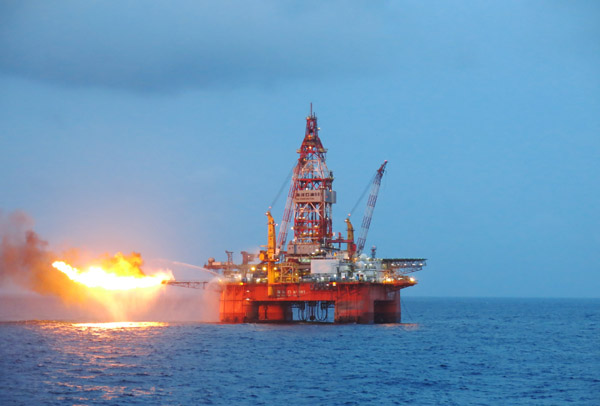 An oil-drilling platform in the South China Sea. [Photo/Xinhua]
The nation's long-term outlook for energy demand will remain strong, according to an industry report released on Monday.
The energy sector faces a tough balancing act in 2015. It was affected by the plunge in oil prices during the second half of last year, which followed prolonged high output levels amid weakening global demand.
The Outlook for the Oil and Gas Industry in 2015, produced by Det Norske Veritas and Germanischer Lloyd, the world's largest risk management company by revenue, said the rising demand is being driven largely by the central government's Energy Development Strategy Action Plan (2014-20) and increasing urbanization.
The factors indicate that international investment will continue to flow into the country's oil and gas sectors.
The report, based on a global survey last month of more than 360 senior industry professionals and executives, found that the United States, China and Norway will be the three most favored investment destinations for 2015. Last year, it was the US, Brazil and Australia.
Wu Yi, regional manager for DNV GL China, said that reassessments and postponements of new investments are expected in light of current oil prices.
China's oil demand will grow 3 percent year-on-year to 534 million metric tons this year, according to the economic and technology research institute of China National Petroleum Corp, the nation's top oil and gas producer.
In 2014, oil consumption grew 3.3 percent to 516 million tons.
However, the report said the biggest barriers to growth for Asia-Pacific respondents are low oil prices, the weak global economy and tougher competition from international rivals. Among respondents globally, the same top two barriers to growth are identified, with the third being gas prices that make the resource unattractive.