Decline will push pace of economic restructuring, experts say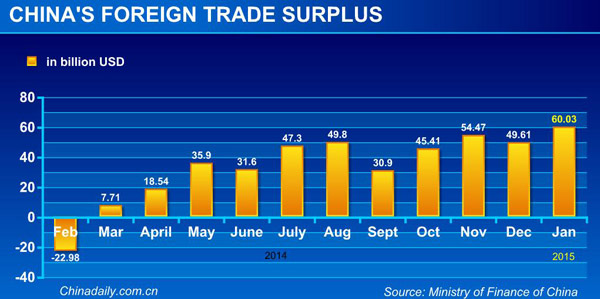 China's foreign trade stumbled by 10.8 percent to 2.09 trillion yuan ($341 billion) on a year-on-year basis in January, pushing the country to accelerate the pace of restructuring.
The country's exports slid 3.2 percent to 1.23 trillion yuan and imports slumped 19.7 percent to 860 billion yuan, expanding the trade surplus by 87.5 percent to 366.9 billion yuan, according to General Administration of Customs data released on Sunday.
The sharp import decline was led by a drop in foreign commodities as coal tumbled by nearly 53.2 percent, refined oil dropped by 37.6 percent and steel slid by 14.7 percent from the same month a year earlier.
"The weak manufacturing activities and a bearish housing market have caused domestic demand for commodities including refined oil, industrial metals and plastics to decline," said Zhao Zhongxiu, a trade professor at the University of International Business and Economics in Beijing.
Zhao said the trade surplus, combined with a downturn in exports and imports, complicates the government's management of exchange rates after January's depreciation.
Exports fell by 4.4 percent to the European Union, 10.9 percent to China's Hong Kong region and 20.4 percent to Japan. Shipments to Russia plunged 42.1 percent.
"Even though the People's Bank of China, the central bank, so far has responded to the weakness by cutting interest rates and the amount of reserves banks must hold back when lending, the measures were only seen as holding the line," said He Jingtong, a professor of international trade at Nankai University in Tianjin.
He said policymakers should introduce more easing policies to reinvigorate growth.