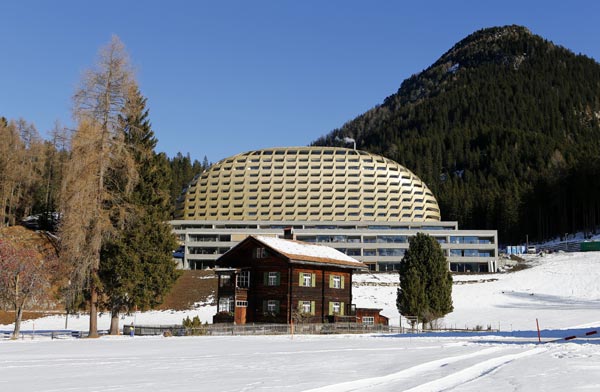 A chalet stands in front of the Inter Continental Davos luxury hotel in the Swiss mountain resort of Davos. Located 1,600 meters above sea level, the hotel offers 216 rooms. [Photo/Agencies]
The Golden Egg, the newest luxury hotel in Davos, was the place to be for the global elite at last year's World Economic Forum, selling out all of its 216 rooms. On one evening, Israeli Prime Minister Benjamin Netanyahu and his wife dined at its restaurant, while the former prime minister of Britain, Tony Blair, was seen in the bar with a colleague, according to General Manager Peter Pedersen.
Six months later, the five-star hotel's management company went bust and its owner, a Credit Suisse Group AG fund, had to start picking up the pieces. Despite its famous guests, which also included Goldie Hawn and Bono, and extensive research into the local market, Inter Continental Davos was faced with empty rooms once the annual forum's delegates went home.
"Davos is dead in spring and summer," said Karl Wild, author of an annual ranking of Switzerland's best establishments. "Hotels typically make 20 percent to 30 percent of their income during the WEF."
In a town famous for an annual gathering of the world's most influential people, the owners were unable to master the economics of the hotel business. The construction of the Golden Egg, which opened in December 2013, was influenced by the WEF's need for more five-star hotels in the ski resort. Its fate could decide whether more are built.
Keen on more ritzy rooms to welcome international luminaries, the forum's organizers encouraged construction of the Golden Egg, nicknamed after its golden cocoon shape.
Credit Suisse's Real Estate Fund Hospitality provided 155 million francs ($175 million) cash in backing, and the town itself also made concessions.
In the mountains of eastern Switzerland, Davos-with a population of 13,000-welcomes some 2,500 delegates at the annual event, which this year will be held from Jan 21 to Jan 24.
With big-name attendees such as German Chancellor Angela Merkel, French President Francois Hollande and US Secretary of State John Kerry, each WEF week creates a surge in demand for luxury accommodation.
The town offers fewer than 400 rooms in five-star hotels, while most lodgings in Davos are four-star. Even for these less luxurious hotels, many of which were built more than 30 years ago, rates can quintuple during the forum.
Opening a luxury hotel was always going to be a challenge. It takes four to five years to build up a stock of regular visitors. While many new hotels make a profit in their first year, this may not be enough to cover debt costs, according to Russell Kett, who heads the London office of hotel consultant HVS. It is normal for a hotel to achieve a "stabilized operating performance" by the fourth year at the latest, he said.
Most Swiss luxury mountain resorts also close in the low seasons, while the Golden Egg stayed open, said Christophe Piffaretti, who took over management of the Credit Suisse fund this month.
To bridge the seasons, the Inter Continental hopes to host national and international conferences. This may become harder after the Swiss National Bank suddenly decided to abolish its cap on the franc, pushing the Swiss currency to a record high.