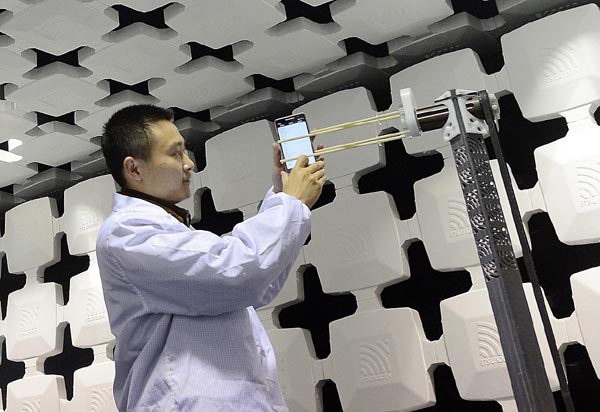 A Lenovo scientist tests the properties of the electric magnetism compatibility of its handsets in a production base in Wuhan, Hubei province. China has become a competitive place for investors in mobile technologies. [Photo/China Daily]
Mobile technologies account for about 4 percent of China's gross domestic product, an industry report said on Friday.
The nation is now home to more inventors in mobile technologies than any other countries except the United States and South Korea, according to the Boston Consulting Group, a research firm. The country is also seeing the rise of a vibrant application developer community, with approximately 1 million people working in the high-growth field-more than twice as many as in the United States.
"China has become a highly competitive place to import and assemble components into finished products, allowing the country to tap into its strong manufacturing base," the report said, adding the mobile sector now represents 3.7 percent of the GDP, with a 17.7 percent compound annual growth rate from 2009 through 2014.
The mobile revolution is triggering the next trillion-dollar market globally, the report said.
China, the world's biggest smartphone market, has been gaining market share in higher value areas, the report said, after surveying 7,500 customers and 3,500 small and mid-sized enterprises in six countries including China, the US and India.
"With the success of companies in the device space, as well as telecom equipment manufacturers, Lenovo Group Ltd's recent acquisition of Motorola has further strengthened China's capabilities in mobile innovation," it said.
Mobile has also been a driving force in the success of some of the world's most valuable companies. Six out of the 25 most valuable companies in the world are participants in the mobile value chain.
Except global brands such as Apple Inc and Google Inc, a number of growing Chinese tech companies are joining the mobile feast.
China Mobile Communications Corp, the biggest telecom carrier in the country and Alibaba Group Holding Ltd, the world's largest e-commerce player, are pushing mobility innovation in China.
Smartphones, tablets and wearable devices are the most popular mobile products in China and lower prices for these products is driving the adoption rate growth.