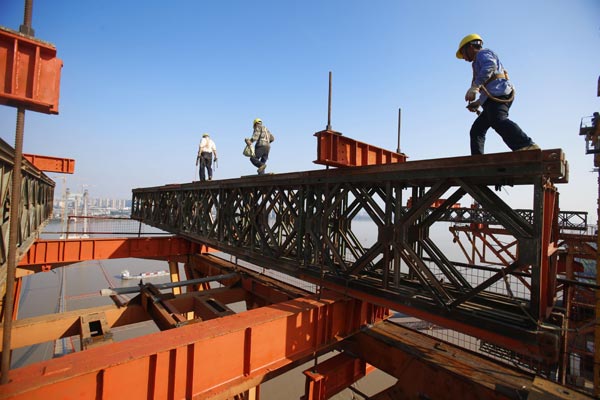 In the past years, local governments have borrowed heavily to finance infrastructure projects. Photo by Chen Zhuo / for China Daily]
BEIJING - The Chinese government's plan to expand pilot bond program for local governments is a fresh boost for the development of China's regional and local government bond markets, rating agency Moody's said in a latest report.
Chinese Finance Minister Lou Jiwei, at an annual national fiscal conference ended on Tuesday, announced that more participants would be added to the list of 8 provincial governments currently participating in the pilot bond program.
Moreover, the participants will be allowed to issue special-purpose bonds in addition to the general-obligation bonds now issued.
Lou also stated the Chinese central government's intention to improve the pricing mechanism of the embryonic local government bond market, especially by strengthening market discipline.
This latest development is good for Chinese regional and local government bond markets, as the market discipline required for a functioning bond market will demand increased transparency and accountability.
This will in turn enforce strong local decision-making and responsible public policy, Moody's said in the report.
Such a development will be in line with China's revised budget law that will allow local governments to issue bonds outside of the pilot program.
It is also in line with the guidelines issued by the State Council (cabinet) on Oct 2, 2014, which specify that local governments should begin to issue debt directly and no longer rely on indirect borrowing through local government financing vehicles and other government-related entities, Moody's said.
Moody's said that other budgetary reforms now being implemented will lead to greater transparency, a condition which is critical for developing local government bond markets.
These reforms cover, among others, the development of comprehensive financial statements, including balance sheets, multi-year budgeting, and greater disclosure of debt and other obligations.
Also, the planned improvement in the pricing mechanism is important to reflect credit distinctions among the entities as required by a successful bond market, Moody's said.
In a separate announcement on Dec 25, 2014, and pending final approval from central government authorities, one of the 10 local government pilot participants, the Ningxia Hui autonomous region, plans to access offshore bond markets, with terms of 5 years or less and an overall issuance size of up to $1.5 billion.
This development represents the first planned offshore bond issuance by a Chinese regional government and is a logical next step for the ongoing development of China's regional and local bond market, Moody's said.
The elevated discipline of offshore markets should benefit the financial profiles of Chinese local governments by enhancing transparency and accountability, which in turn will encourage responsible fiscal behavior by local governments, Moody's added.