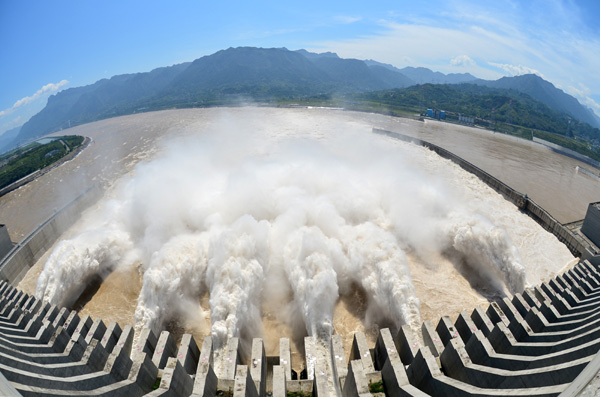 The sluice gates of the Three Gorges Dam. [Photo/Xinhua]
YICHANG - China's Three Gorges Power Plant generated 98.8 billion kilowatt-hours (kwh) of electricity in 2014, beating the world record for hydropower generation set by Brazil's Itaipu hydroelectric plant, according to the China Three Gorges Corporation on Thursday.
Though with a much smaller installed capacity, Brazil's Itaipu hydroelectric plant has long been the champion of world hydropower generation. It generated 98.6 billion kwh of electricity in 2013.
The China Three Gorges Corporation said 98.8 billion kwh is the equivalent of saving 49 million tons of coal consumption and preventing the emissions of carbon dioxide by 100 million tons.
The Three Gorges Power Plant, the world's largest hydropower station, has an installed capacity of 22.5 million kw. The Itaipu hydroelectric plant has an installed capacity of 14 million kw.