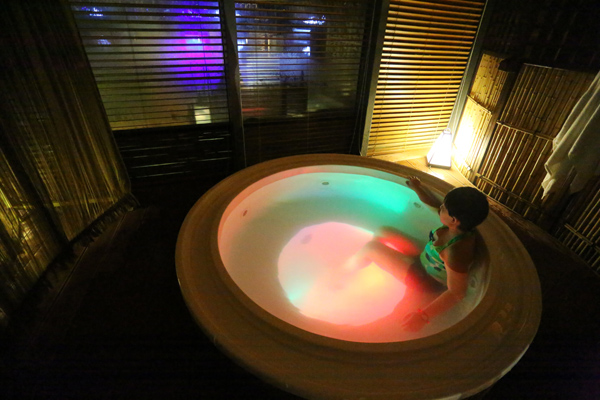 A customer enjoys the indoor hot spring at Chun Hui Yuan Resort in Shunyi district, Beijing. [Photo Provided to China Daily]
Even so, group buying has become an accepted and important part of the food and leisure industry in China, where many businesses encourage its use.
A sales representative at Changping district's Longmai Spa Resort said, "The highly competitive hot springs market is now a numbers game and not about high prices."
She quoted the resort's hot spring prices as 198 yuan for weekdays and 300 yuan for weekends before revealing that if bought as a "group ticket", which requires booking one day in advance, it would only cost 98 yuan for any day of the week.
A strategy used by resorts to get customers to part with more money has been to offer package deals.
At Longmai, a package deal that includes entrance to the hot springs, one night's accommodation and three meals costs 358 yuan per person, the only caveat being that the deal has to be purchased in multiples of two because each room has twin beds.
Others have tried to attract more business by adapting to the needs of their new clientele.
Hot Spring Leisure City, in Changping district, used to count its 5,000 capacity conference and exhibition center as a key marketing feature for the resort.
However, lack of use paved the way for a strategic decision to revamp the space into a badminton hall in mid-October.
Yang Wei, manager of branding at the resort, said it would be hard to find one hot springs resort that has not seen business drop in the current environment, which makes adapting quickly and effectively that much more important.
Given that families are the key customers now, abundance and diversity of attractions is critical, she said.
Badminton can now be added to the resort's list of hot springs, swimming pool and skiing facilities
"We still hold some corporate events and if the need arises, we can quite easily convert the badminton facility back to a conference center. The space is now flexible with two uses and in the current climate it is useful to be flexible," said Yang.