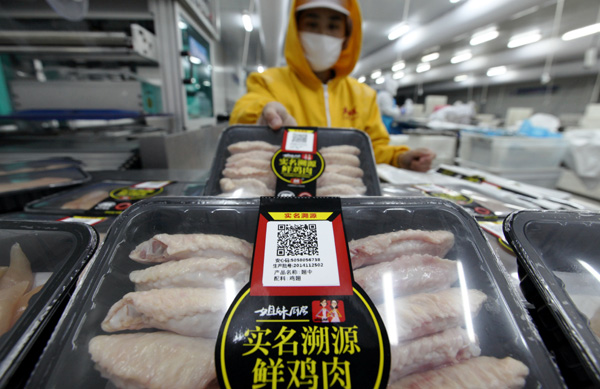 Quick response code is adopted by a food enterprise in Mengcun, Hebei province to help buyers trace related food safety information. Experts say some additives are often crucial to the manufacturing processes of some food, not only in ensuring flavor or color, but also in the preservation of the products. [Photo/Xinhua]
Misgivings still exist so experts insist public education urgently needed
Experts are calling for tougher regulation of the use of additives in food, but they also say there should be more public education on the substances, which actually play an important role in the country's food production industry.
"I am often asked 'is anything completely safe to eat?'," says Chen Junshi, chief adviser at the Center for Food Safety Risk Assessment.
"People are genuinely worried about the use of too many food additives. Yes, people should be wary of food products which claim 'no colorings, no preservatives' on the packaging, but there is actually a lot of misunderstanding surrounding food additives, which has to be sorted," says Chen.
Experts point out that some additives are often crucial to the manufacturing processes of some food, not only in ensuring flavor or color, but also in the preservation of the products.
The Chinese food industry currently uses around 2,000 different kinds of food additives across 20 categories, with bleaching and bulking agents among the most common.
Sun Baoguo, an academician with the Chinese Academy of Engineering, who is also president of Beijing Technology and Business University, says nearly all food products actually contain additives, but the key issue is how to use them properly.
"Some food producers have been guilty of using excessive amounts of additives or even using banned substances to lower their production costs, and those are the ones which have caused a lot of the recent panic we have seen," says Sun.
"In many cases, it's how the additives are being used which is wrong, not the additives themselves-and this had led to additives practically being demonized by many consumers."
According to one recent online survey published in the China Youth Daily, 65 percent of respondents said they believed food additives were unhealthy, with 42 percent calling for them to be banned altogether.