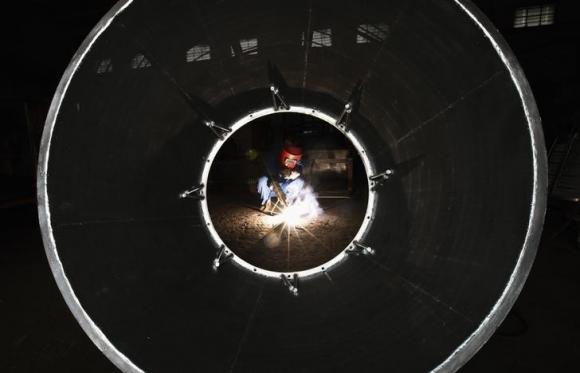 An employee works at a machine manufacturing factory in Huaibei, Anhui province, Sept 1, 2014.[Photo/Agencies]
BEIJING - Chinese manufacturing activity waned slightly in December but is still expanding, official data showed on Thursday.
The manufacturing purchasing manager's index (PMI), a key measure of factory activity in China, posted 50.1 in December, down from 50.3 in November, according to data released by the National Bureau of Statistics (NBS) and the China Federation of Logistics and Purchasing (CFLP).
A reading above 50 indicates expansion, while a reading below 50 represents contraction.
The PMI of large manufacturers posted 51.4, down from 51.6 in November.
That of medium enterprises stood at 48.7, up from 48.4 in November, but still contracting.
The PMI of small manufacturers slumped to 45.5, down from 47.6 in November, and remained in the contraction territory, the NBS said.
The production sub-index posted at 52.2 percent, down from 52.5 in November.
The sub-index for new orders slipped to 50.4, down from 50.9 in November. The employment sub-index was 48.1, down from 48.2 in November.
The slumping PMI showed the manufacturing sector does not have great upward momentum, though it is running stably, said Zhao Qinghe, a senior NBS statistician.
China is experiencing industrial restructuring, and the prices of industrial products have been slumping, affecting the production and order sub-indices, Zhao said.
Deflation is showing up with signs of weak market demand, slumping industrial product prices and dropping profits, said Cai Jin, CFLP vice president.
China's "new normal" of slower but higher quality growth will bring a moderate slowdown, but it does not mean the growth rate will continue to shrink for long, and it will stabilize in the second quarter of 2015, Cai said.
A cooling manufacturing sector and property downturn dragged China's economic growth to 7.3 percent in the third quarter in 2014, down from 7.5 percent in the second quarter and 7.4 percent in the first quarter.