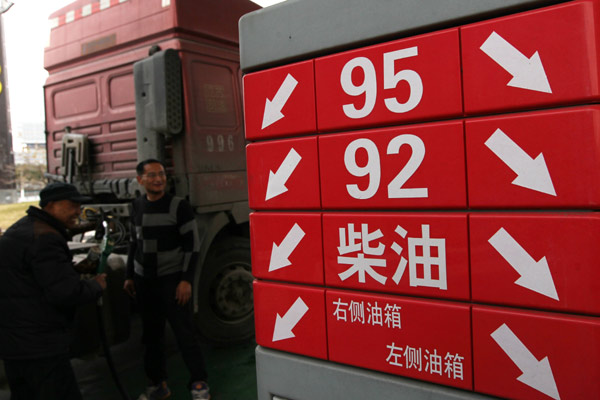 A gas station in Nantong, Jiangsu province. Continued falls in global crude oil prices have triggered another cut in domestic retail fuel prices, with the nation's top economic planning agency saying that the revised prices will come into effect on Dec 27. [Xu Congjun / for China Daily]
More reductions likely in 2015 as international crude levels fall
The continued fall in global crude oil prices has triggered another cut in domestic retail fuel prices, with the nation's top economic planning agency saying that the revised prices will come into effect on Saturday.
According to the National Development and Reform Commission, China will cut retail gasoline prices by 520 yuan ($83.6) a metric ton, or 0.4 yuan for each liter and for diesel by 500 yuan a ton, or 0.43 yuan a liter.
Reacting to the international crude price swings, China has already cut retail prices 14 times and hiked them four times this year. The next price adjustment is scheduled on Jan 12 based on the current pricing mechanism.
Han Jingyuan, a crude analyst at JYD Online Corp, a Beijing-based bulk commodity consultancy, said given the slowing global crude demand and increasing energy supplies from the United States and the Organization of the Petroleum Exporting Countries, oil prices will continue to drop.
In 2014 gasoline prices in China dropped 2,050 yuan a ton, or 1.54 yuan a liter, and diesel prices 2,205 yuan a ton, or 1.89 yuan a liter after adjustments, according to data provided by consultancy firm Shandong Longzhong Information Technology Co.
Li Yan, a crude analyst with the consultancy, said with Saudi Arabia unwilling to cut crude output, prices are expected to fall further in the coming months. He said that China will cut retail prices again during the next pricing adjustment window.
"Considering the huge losses that the domestic refineries may incur, the authorities may also increase prices to protect the petrochemical industry, which is in accordance with the pricing regulations," he said.
Xu Ying, an oil market analyst with Longzhong, said the country's demand for refined oil products is weakening this year driven by the slowing economy. On the other hand, the rising domestic refining capacity has triggered a price decline in the oil products wholesale market.
"Many small-scale refineries had to offer huge discounts," she said.
Xue Qun, an analyst with the consultancy, said the fuel price cut will help domestic logistics companies reduce their costs, which is beneficial for the industry.
Fuel costs for a delivery truck will drop by 1,505 yuan for each 10,000 kilometers, she said. "A driver can save 32 yuan for each 1,000 kilometers with a family car, which is a good news for the public," she said.