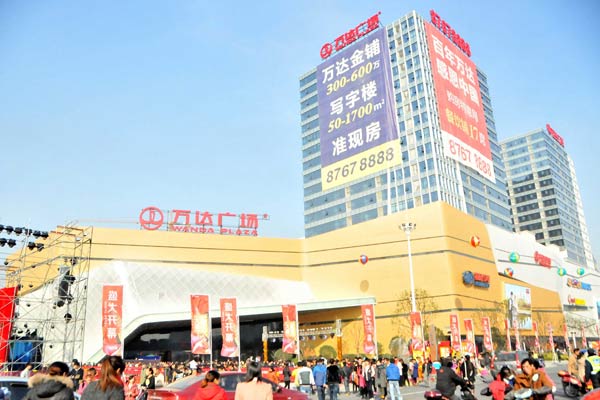 The 108th Wanda Plaza opened in Hangzhou, capital city of Zhejiang province. Dalian Wanda Commercial Properties has already received $2 billion worth of purchase commitments from cornerstone investors. ZHU YINWEI/CHINA DAILY
Majority stake beefs up its efforts in booming online to offline segment
Chinese conglomerate Dalian Wanda Group Co, whose real estate arm raised about $3.7 billion in a Hong Kong share sale on Tuesday, said it is buying a controlling stake in a domestic third-party payment platform, stepping up its efforts in the country's booming online to offline market.
Wanda, China's biggest commercial real estate developer, inked the deal on Friday with 99Bill Corp, an e-payment service provider similar to PayPal, with a reported investment of 2 billion yuan ($322 million). Neither Wanda nor 99Bill agreed to confirm the investment amount.
The tie-up will allow visitors to all of Wanda's offline resources - from department stores, hotels, tourism resorts to cinemas and karaoke clubs - to pay online through 99Bill's app. And 99Bill, which is the fourth-largest third-party payment service provider in China, is expected to leverage Wanda's advantages in offline shoppers and vendors to further boost its business of Internet finance.
Ding Benxi, president of Wanda, said there is strong synergy in the cooperation. "About 1.5 billion visits were made to Wanda's offline resources in 2014 and the cooperation is expected to add hundreds of billion yuan to 99Bill's transaction's every year," Ding said at a news conference held in one of Wanda's five-star hotels in Beijing.
"99Bill's advantages in payment technology, big data and its partnership with enterprises and financial organizations can give Wanda a strong push in order to become China's largest online to offline business," he said.
The investment marks Wanda's major progress in online to offline business after it formed a joint venture in August with Internet giants Tencent Holdings Ltd and Baidu Inc. Wanda said earlier that it wants to develop online to offline-based e-commerce into the group's fifth "pillar industry" by 2020 after real estate, cultural tourism, finance and retail.
Analysts said that Wanda made a wise decision to cut into online-to-offline market with the online payment investment. However, it is difficult for 99Bill to compete with Alipay, the dominant e-payment service in the market, whose owner Alibaba Group Holding Ltd is also expanding its online-to-offline presence.
Vanessa Zeng, a senior analyst at Forrester Research Inc, said payment platforms help connect online and offline business. "By controlling 99Bill, Wanda can help potential users to form the habit of buying online and enjoying the service and experience offline," she said.
"But the question is how can 99Bill, which has good ties with companies and banks, but not that popular with ordinary shoppers compete with Alipay," Zeng said, adding what surprised her most in the deal is that Wanda chose 99Bill over Tencent's Tenpay to cooperate.
"Tenpay ranks the third in online payments in China and Wanda already has a joint venture with it," she said.
Apart from the cooperation in online-to-offline business, the tie-up allows 99Bill to leverage Wanda's data on offline customers and vendors to further boost online finance business, said Oliver Kwan, chief executive officer of 99Bill.
"We are going to focus on consumer finance, loans to small and medium-sized enterprises and wealth management," said Kwan, adding the cooperation is expected to help grow 99Bill into a leading Internet finance company in China.
Wang Weidong, an analyst at iResearch Group, a Beijing-based consulting firm, said it is a win-win partnership between Wanda and 99Bill. "Wanda has a large number of consumers and vendors, which means a lot of data. In the business of Internet finance, data is important for risk control," he said.