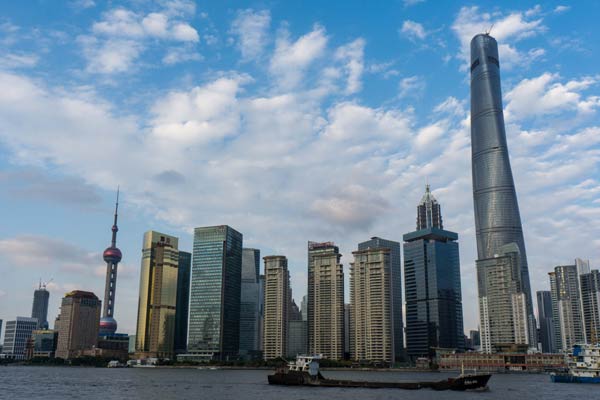 Shanghai Tower (the highest in the picture), a new landmark of Shanghai's financial hub Lujiazui, is nearly complete. Many RICS members have been involved in the project from the beginning. [Provided to China Daily]
Long-term plans crucial for finding a sustainable future path, says expert
Planning for the future has always been a major challenge for policymakers and city planners alike, be it in countries like the United Kingdom, China or big cities like Beijing, London and Shanghai. But with all eyes on Shanghai as the city readies to be a major global financial center by 2020, planners have often pondered on creating a sustainable vision/growth plan for the city 25 years from now and beyond.
Though most industry experts and planners would like to pass the buck on the issue and content themselves with answers like "it is not something that will happen during my lifetime", there are others like Sean Tompkins who are experts in addressing such questions.
Tompkins, chief executive of London-based Royal Institute of Chartered Surveyors, says long-term plans are crucial tools for policymakers, as they include the responsibilities and ethical standards that are essential for the future development of a global city.
RICS is a professional organization that sets and implements uniform global professional standards for land, property and construction.
Several of its members are involved in drafting the 2040 urban plan for Shanghai.
According to Tompkins, it is important to have a clear vision and perception about urban-rural integration before getting down to drafting a plan to make cities like Shanghai more livable.
In October, RICS launched "Future Global Cities", an initiative aimed to boost cities' abilities in innovation, strategic leadership, building resources and competitiveness in economic, political, cultural, social and technological areas around the world.
Affordability and livability may require higher standards in China, and the plans should include urban infrastructure like traffic, public housing and other welfare projects such as education and healthcare, said Tompkins.
By 2020, urban residents will account for about 60 percent of the total population in China and some 200 million people may migrate to cities or towns by that time, according to the national urbanization program released in March.
In China, urban planning has been getting more and more importance in recent years. During an urban planning meeting in October, Premier Li Keqiang said the country should use farsighted solutions to tackle today's problems. According to the blueprint for the country's urban planning, Shanghai will be an important cog in the global network of cities.
Wu Jiang, a senior urban planner and vice-president of the Shanghai-based Tongji University, said: "Shanghai is the gateway to China and will link the country with the rest of the world. It will also connect coastal cities to the hinterland, serving a role like that of London to Europe and New York to the United States. Though China is a vast country and will have more than one node, Shanghai is irreplaceable."