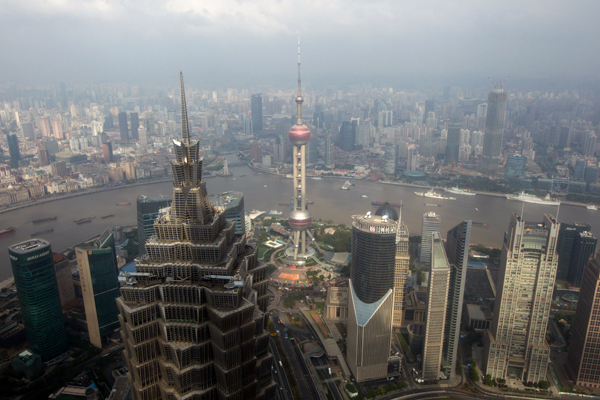 An aerial view of Shanghai on Oct 12. A strategy that supports the biggest cities' expansion would add $2 trillion to China's output in 10 years. [Photo provided to China Daily]
The nation needs a new prescription for growth: Cram even more people into the pollution-ridden megacities of Beijing, Shanghai, Guangzhou and Shenzhen.
While this may sound like a recipe for disaster, failing to expand and improve these urban areas could be even worse. That's because the biggest cities drive innovation and specialization, with easier-to-reach consumers and more cost-efficient public transport systems, according to Yukon Huang, a former World Bank chief in China.
He estimates China's leaders' seven-month-old urbanization blueprint, which aims to funnel rural migrants to smaller cities, will slice as much as a percentage point off gross domestic product growth annually through the end of 2020.
"China's big cities are actually too small," said Huang, a senior associate at the Carnegie Endowment for International Peace's Asia program in Washington. "If China wants to grow at 7 percent for the rest of this decade, it's got to find another 1 to 1.5 percentage points of productivity from somewhere."
A strategy that supports the biggest cities' expansion would add $2 trillion to China's output in 10 years - more than India's 2013 GDP - according to Shanghai-based Andy Xie, a former Morgan Stanley chief Asia-Pacific economist.
With a population more than four times that of the United States living on roughly the same land mass, China should have big, densely populated urban areas, Xie said.
'Ecological catastrophe'
"If you do not focus on big cities with concentrated populations, China will become an ecological catastrophe," he said. "If you pick the wrong model of urbanization, it sets you back not just for years, it could cap your income level for eternity."
Beijing and Shanghai already have about 20 million people each, while Guangzhou and Shenzhen both top 10 million. Even so, given China's 1.4 billion population, their concentration is low by global standards. In the US, the largest 10 metropolitan areas account for about 38 percent of GDP, about double that in China.
China's current urbanization policy decrees that populations will be "strictly controlled" in metropolises with more than 5 million people while expansion is allowed in mid-sized cities and encouraged in small ones.
The plan will redress unbalanced development that has left megacities overburdened with deteriorating environments, Vice-minister of Public Security Huang Ming said at a March briefing.
The edict shows the "persistence of old thinking" even after past attempts to shift people and resources to smaller, less productive cities proved "hugely wasteful", Andrew Batson, an analyst at researcher Gavekal Dragonomics in Beijing, wrote in an August note.
"Planners still seem convinced that big cities are crowded, terrible places whose growth must be controlled," wrote Batson, who has covered China since 1998.
Fourth Plenum
As China's top leaders gathered for the Fourth Plenum that started in Beijing on Monday, any major rethink on urbanization is unlikely. The plenum will focus on efforts to bolster the rule of law, State media reported last month.