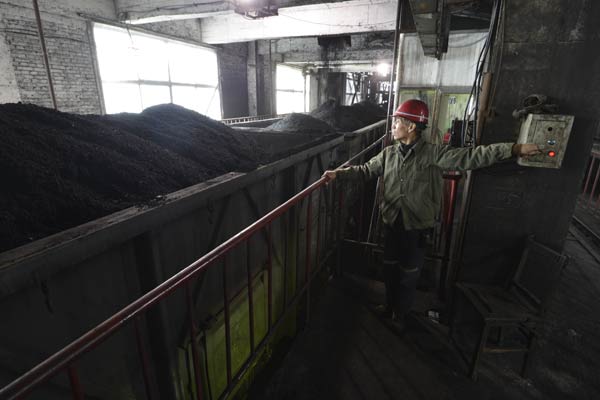 A coal washing line in Lyuliang, Shanxi province. Nonperforming loan ratios have surged in regions that rely heavily on coal, whose prices are sinking as the economy slows. [Provided to China Daily]
Nonperforming loan ratios have surged in regions that rely heavily on coal, whose prices are sinking as the economy slows, according to media reports and industry sources.
The banking sector's NPL ratio now exceeds 5 percent in Shanxi province and nearly 4 percent in Ordos, a major city in the Inner Mongolia autonomous region. Those figures are several times the national average.
In Ordos alone, outstanding bad loans total nearly 10 billion yuan ($1.61 billion), accounting for almost one-third of the NPLs in Inner Mongolia, Beijing-based Caixin Media Co Ltd reported.
The banking sector of the region is grappling with the hangover of excessive investments made after the global financial crisis of 2008-09, when a government stimulus program drove massive amounts of liquidity into the economy.
Overdue debts extended by various local government financing vehicles in Ordos reached about 200 million yuan in 2013. The financing vehicles in the city now face pressure to redeem trust products worth more than 20 billion yuan, Caixin Media reported.
Nationwide, the average NPL ratio for commercial banks rose to 1.31 percent as of Nov 30 from 1 percent at the end of 2013, Shang Fulin, chairman of the China Banking Regulatory Commission, told a video conference on banking supervision on Tuesday.
"Banks must achieve the full resolution of nonperforming loans to prevent, control and defuse potential risks. They should write off nonperforming loans in a timely manner, revitalize and restructure bad assets and explore the transformation of bad assets," Shang said.
As China restructures its economy, activity is dropping at major coal consumers, leading to falling coal consumption and prices.
The Bohai Rim Steam-Coal Price Index, which shows the price of steam coal with 5,500 kilocalories per kilogram in the Bohai coastal region, fell to 525 yuan per metric ton on Wednesday from 631 yuan a year earlier.
The coal industry in eight provincial-level regions is running huge losses.
As of Oct 31, inventories had exceeded 300 million tons for 35 months in a row, according to the China National Coal Association. Many coal companies have resorted to shipping huge volumes to coastal and inland ports and downstream regions for storage and sale.
Further, the quality of financial assets in Shanxi province has been seriously affected by the nation's anti-corruption campaign, which has disrupted relations between business and politics.
Seven provincial-level officials in Shanxi have been investigated for suspected serious discipline and law violations since the beginning of this year.
Banking industry sources said that the loan risks in Shanxi are concentrated in private coal mines and iron and steel producers. Following the fall of certain government officials, some private companies are facing liquidity problems and are at an elevated risk of default.
Shanxi's economy lacks a new growth driver, so it is hard for banks to abandon the coal industry, said a senior executive of Industrial Bank Co Ltd, who declined to give his name.
Wang Yixin, deputy governor of Shanxi province, met with Fan Dazhi, president of Huaxia Bank Co Ltd and Mao Xiaofeng, president of China Minsheng Banking Corp Ltd, in Beijing on Oct 11.
The bankers said the two lenders would take an active part in the transformation of Shanxi's economy by supplying more credit to local emerging industries.