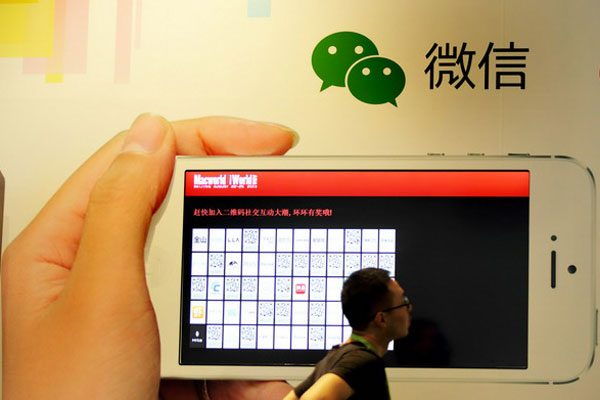 WeChat, now China's biggest instant messaging platform, is expanding its horizons and has become a primary e-commerce platform in its own right. [Provided to China Daily]
The instant messaging platform has taken on a new meaning for many users, report Shi Jing in Shanghai and Meng Jing in Beijing.
WeChat, the mobile text and voice messaging service owned by Shenzhen-based Tencent Holdings Ltd-China's largest and most used Internet service portal that claimed to have had 468 million monthly active users in the third quarter of this year-is now becoming so much more than just away for people to communicate.
The instantaneous and interactive nature of WeChat, now China's biggest instant messaging platform, is expanding its horizons and has become a primary e-commerce platform in its own right.
In May, WeChat launched a long-awaited system for businesses to set up stores within the ecosystem, and some stores have already reached monthly sales of up to 2 million yuan ($321,500), with the average monthly sales revenue for the operating WeChat stores at 95,000 yuan, according to Shanghai-based mobile Internet service provider, Dodoca Information Technology Co Ltd.
Qi Yue, director of Dodoca's Research Institute, said that WeChat has exceeded the 20 percent share of China's online market held by Taobao, Alibaba Group Holding Ltd's e-commerce marketplace.
Dodoca figures show that WeChat store owners have 3,571 followers on average, with the largest customer pool believed to have more than 50,000.
Owners whose stores have less than 100,000 yuan of monthly sales revenue on average generate that amount through 1,200 followers, with average orders being made for between 100 and 350 yuan.
For those with monthly revenue of more than 100,000 yuan, the average value for each order jumps to between 500 yuan and 1,000 yuan.
Many of the larger stores are already seeking higher revenues through appointed agents, and some have started specializing in the sales of more expensive items, such as jewelry.
Wang Ke, CEO of the social e-commerce service provider Koudai, said that 12.85 million WeChat shops had opened by the end of September, covering 172 countries and regions all over the world, bringing in a total of 15.8 billion yuan in sales.
A new WeChat store is opened every two seconds, and just over half of WeChat customers have made repeat purchases.
According to a report released by JD.com Inc, China's largest online direct sales company and the Beijing-based Internet consultancy Analysys International, about 67 percent of those who shop on WeChat are male compared with 42.1 percent of male shoppers in the overall mobile shopping market in China.
JD, which has set up direct access allowing people to buy from WeChat since May, has found that about 63 percent of the shoppers are under the age of 30.
The most popular items among WeChat shoppers are clothes and shoes as well as consumer electronics, said the report released on Thursday.
Less_M, one WeChat store, specializes in facial masks imported from Shinna Seoul Medical and Cosmetic Co Ltd, in South Korea. After two years of research, executives at Less_M chose a WeChat store as its major distribution channel because they believed e-commerce using mobile devices will become the norm from now on.
It sold more than 100,000 masks within the first week of opening for business on WeChat on Sept 12, and now has more than 10,000 followers.
"Consumers complete the transaction directly via WeChat as Less_M's account is directly linked to our company's bank account, which saves so much trouble," said Michelle Fei, marketing director of Shinna Seoul Medical's China branch.
"The marketing of this brand is easy: a combination of real consumers and word of mouth."
Liu Qiangdong, founder of e-commerce company JD, said at a meeting of the National Internet Information Office that it is unlikely that those doing business on WeChat would be tempted to sell counterfeit goods on the platform, as their lives are so transparent using this kind of social media.
Their very first customers are likely to be friends and relatives, he said, an intimidating prospect if they planned to sell anything fake.
Zheng Anni quit her job at a State-owned enterprise in Beijing to start her own jewelry business on WeChat in August, selling everything from jadeite to sapphire and coral.
Most of her products are from Guangdong province, a hub for jewelry products imported from Myanmar, and Lianyungang in Jiangsu province, well known for its crystal.
"They have to be genuine. Authenticity is of the utmost importance," said the 31-year-old online entrepreneur.
More than 80 percent of Zheng's customers are females between 26 and 43 years old. Shehas almost 200 friends on WeChat, one-quarter of whom have already bought jewelry from her.
Former colleagues and friends are her major customers and publicity sources, and many have become repeat customers, she said.
Within a month she had managed to make more than 10,000 yuan on sales revenue of 40,000 yuan. On average her customers pay 3,000 yuan to 4,000 yuan for each order. "The cheaper the product is, the easier it is to sell," she said.
Qi Yue from Dodoca said, however, that most WeChat store managers face two big problems: running out of friends to sell to, and lack of marketing knowledge.
Courses offering training in both have sprung up as a result, many of which are just traps to make money out of shop owners, Qi said.
Dodoca's research shows that as many as one-third of WeChat shop owners say they do not have a long-term plan for their stores, and more than 20 percent leave WeChat as soon as they have made a quick profit, he said.
This is not, it seems, a model for sustainable growth.