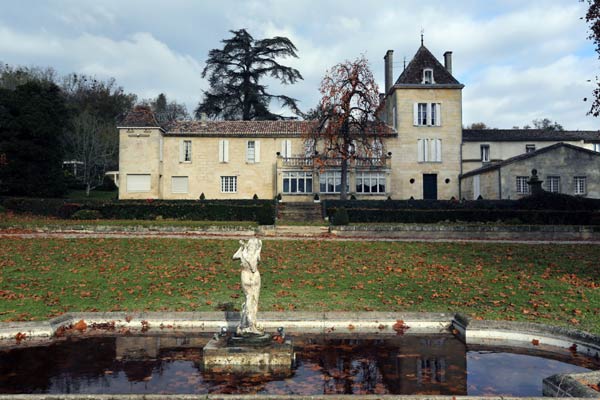 The Chateau Bellefont Belcier, in the southwestern town of Saint Emilion near Bordeaux. A 47-year-old Chinese industrialist bought the landmark property in 2012.[Photo/Agencies]
Buying from China is underpinning a nascent recovery in Bordeaux wine-estate prices, boosting demand for mid-level vineyards while top properties have rebounded to levels last seen in 2000, according to broker Michael Baynes.
Investors from China have bought about 100 Bordeaux estates since starting to focus on the area in 2010, helping reverse a slide in land values set in motion 15 years ago by the onslaught of New World competition in the global wine market, Baynes said in an interview at his offices near Saint Emilion.
He is a partner in Maxwell-Storrie-Baynes, an exclusive affiliate to Christie's International Real Estate.
While Chinese buyers have focused on mid-tier properties typically selling for less than 1 million euros ($1.22 million) per hectare, that has supported demand across the region, where the top 150 estates now command prices ranging from 1 million to more than 10 million euros per ha, he said.
The 350 estates ranked just below the top 150 are valued at 1 million to 3 million euros per ha, while the next 500 cost between 250,000 euros and 1 million euros per ha, according to Baynes.
The area comprises more than 7,000 properties spread across 106,000 ha of vineyards.
"I think these first 100 buyers of Bordeaux chateaux have absolutely called the market correctly and they're on to something very interesting," Baynes said.
"What they look at is the bottom line. They want what we would regard as a trophy because that sells wine. They don't do something unless there's a clear profit margin at the end of it."
In a deal Maxwell-Storrie-Baynes brokered by Hangzhou-based New Century Tourism Group bought Chateau de Birot in the Cadillac Cotes de Bordeaux region on the right bank of the Garonne, a property covering 34 ha with an 18th century mansion and about 25 ha of vines.
New Century, which owns 160 luxury hotels employing 24,000 staff, bought the property from the Fournier-Casteja family, who owned it since 1989, according to the estate's website.
Arthur Fournier, who already runs the chateau, will stay on under the new owners.
Baynes said variations in the Bordeaux market are driven by location, much in the same way as prime London real estate, while the chateau properties at the very top of the rankings tend to "behave much more like a piece of fine art than they would a piece of real estate", he said.
Prices he quoted exclude buildings, wineries and stock.
"Saint Emilion is just over 5,000 hectares," he said.
"It'll never be more than that, so it's a very limited supply."
Prices for estates in areas such as Pessac-Leognan and Lalande-de-Pomerol are rising, both reflecting the quality of wine and in some cases their proximity to top-brand estates or higher-priced regions.
"We've seen a pretty strong recovery in those prestigious appellations," he said, a trend that dated back to 2010, when the critically acclaimed 2009 vintage came on sale and international attention was focusing on Bordeaux.
Further down the scale, he said, prices have leveled off and for some properties are just starting to climb back after a 50 percent slump over the past 15 years.
"In 2000, a nice Entre Deux Mers Bordeaux Superieur parcel of vines would have traded for around 40,000 euros per hectare," Baynes said.
"Today that same parcel would be trading for around 21,000 or 22,000 euros and two years ago it would have been trading for around 20,000 euros. So we're seeing a slight recovery, but from a position we've halved."
He said there has not been any noticeable slowdown in Chinese buying interest since a crackdown started on gift-giving and luxurious living styles.
"We have seen no effect at all. If anything, we've seen an increase," Baynes said, while noting the current pace of acquisition may be hard to maintain.
"It's quite possible that there won't be such intense purchasing by Chinese into the future," he said.