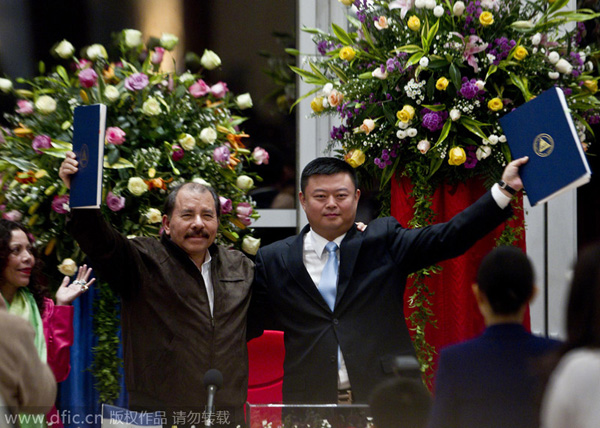 Nicaragua's President Daniel Ortega, (left), and Chinese businessman Wang Jing display the concession agreement for the construction of the $50 billion canal at the Casa de los Pueblos in Managua, Nicaragua, June 14, 2013. [Photo/IC]
With the launch of the Nicaragua Canal project on Monday, 42-year-old billionaire Wang Jing is starting to appear more in public.
Jing, chairman of the Hong Kong-based Nicaragua Canal Development Investment Co Ltd (HKND Group), controls nearly 50 billion yuan ($8.05 billion) worth of fortune, according to Yicai.com.
He started his business in 2009 by investing 95 million yuan in acquiring 41 percent shares of Xinwei Group, an A-share listed communication enterprise group, headquartered in Beijing.
Now Jing holds 34.58 percent shares of Xinwei. Based on the stock value on Dec 24, 2014, his fortune has surged 500 times to nearly 50 billion yuan.
When stories started speculating his influence and position, he said he comes from a humble background and lives with his mother, younger brother and daughter in China.
The Nicaragua Canal is a $50 billion project that will connect the Atlantic and Pacific oceans in Nicaragua.