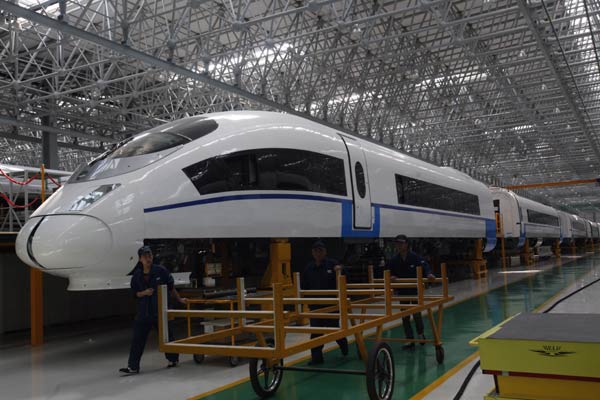 A high-speed train at a workshop of China North Locomotive and Rolling Stock Industry (Group) Corp in Changchun, Jilin province.[Provided to China Daily]
When Premier Li Keqiang highlights the safety and reliability of China's high-speed railway technologies at various forums, he knows that the rich experience gained from building huge rail networks would stand testimony to the nation's growing prowess in the sector, say industry sources.
China has already built the largest high-speed rail network in the world, and leads especially in making high-speed trains and the necessary infrastructure to support it. Currently, most of the rail makers are focusing more on enhancing innovation with a view to develop "China-designed" high-speed trains and to transfer technology to overseas countries.
"The nation has the most advanced high-speed rail technology and is looking for a chance to prove its credentials," says Guo Lei, a senior analyst for SWS Research Co, a unit of Shenyin & Wanguo Securities Co.
China CNR Corporation says it has already grasped core manufacturing technologies for high-speed trains with the completion of the final trial of the traction electric drive system and network control system in its China Railway High-Speed 5A (CRH5A) train.
The successful trial of the CRH5A marked a leap from "Chinese-made" to "Chinese-designed" trains and an entry into fully independent innovation, says a Xinhua News Agency report, quoting an unnamed company official.
The traction electric drive system is the "heart" of a high-speed train that provides the power source, while the network control system is the "brain" that commands its operation.
At the same time, China is also speeding up the pace of approvals for construction of new railway lines to stabilize the country's economic growth next year, especially at a time when the economy cools amid sluggish demand, sources say.
"It is possible that China will focus more on infrastructure construction to drive growth and reduce its reliance on the property market," Guo says. "This will not only lay a solid foundation for sustained growth next year, but prove beneficial in overseas markets as China has a huge capability for manufacturing."
During the last two months, the National Development and Reform Commission, the top economic planner, has given the green light for 35 new infrastructure construction projects with a total investment of 976.2 billion yuan ($157.2 billion), 28 out of which are focused on railway industry.
The latest approval came at the end of last month, when NDRC cleared the construction of four new railway lines at a total cost of about $24.4 billion in Jilin province, Chongqing municipality, Shaanxi province and the Inner Mongolia autonomous region.
Fei Zhirong, head of NDRC's infrastructure bureau, says that China is well on its way to meet its spending target of 800 billion yuan for this year.
China's railway investment during the first 10 months of this year rose 37 percent from a year ago to 590 billion yuan, according to the country's top economic planner.