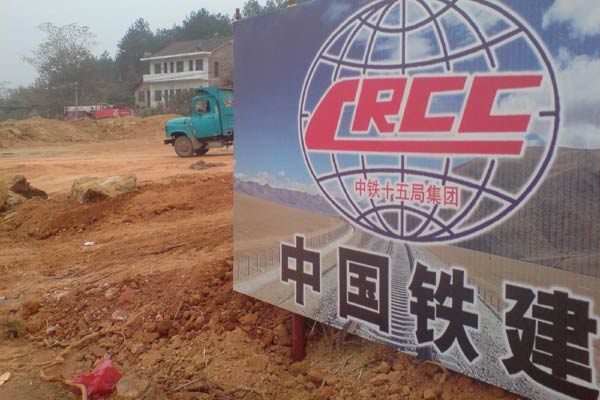 China Railway Construction Corp's billboard at a construction site in Shaoyang, Hunan province. CRCC, the country's largest overseas engineering contractor by revenue, is eager to expand its footprint worldwide.[Provided to China Daily]
Firms grow their global presence with innovative business models
China Daily is releasing a series of reports focusing on those who are devoted to development at the grassroots level.
China's railway construction companies have been among the mainstays of the country's investment-dominated economy for the past two decades, but the domestic market is no longer as central to them as it used to be.
With large parts of the world now anxious to improve regional connectivity and transportation infrastructure to link with new growth markets, Chinese rail construction contractors such as China Railway Construction Corp and China Railway Group are increasingly deploying their resources and money to both emerging and developed markets to grab their piece of the action.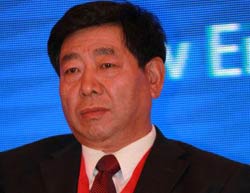 Meng Fengchao, chairman of China Railway Construction Corp.
Meng Fengchao, chairman of CRCC, says many of these opportunities are coming about because of a strong willingness by developing nations to accelerate their pace of urbanization and industrialization.
Opportunities are also likely to increase, given China's ongoing promotion of the Silk Road Economic Belt and the 21st Century Maritime Silk Road.
"Even though the Silk Road initiative is still in the early stages, it could have deep economic implication for the regional trading bloc, especially as it coincides with a renewed push from international companies and commodity producers in Southeast Asia, Central Asia, Middle East and East Europe," says Meng.
CRCC, the country's largest overseas engineering contractor by revenue, whose business covers project contracting, survey design consultation, industrial manufacturing and logistics, is currently preparing bidding documents to win back a contract to build Mexico's first high-speed railway-a bidding process rearranged for next year after the country decided to withdraw the offer to the group earlier last month.
The Chinese company also signed an agreement with the Nigerian government in November for a $12 billion coastal railway line in the country, and is in discussions with India to help it build the world's second-longest high-speed railroad, with a price tag of $32.6 billion, which could become China's single largest overseas contract project till date.
Eager to expand its footprint in Europe too, Meng says the company is negotiating with UK, Polish and Russian partners on other possible collaborations on high-speed railway projects.
Unlike other Chinese rail construction companies, which focus only on engineering, procurement and construction projects, CRCC has gradually transformed its new business model so it can offer build-operate-transfer projects in cooperation with rail giants China North Locomotive and Rolling Stock Industry (Group) Corp and CSR Corp, for instance, as well as other public-private-partnership projects, particularly in developing countries.
Because railway construction projects remain capital-intensive, most developing nations, especially in Africa, Southeast Asia and South America cannot afford the huge outlays required.
But China has been able to offer them considerable lending power through two of its largest State-owned policy banks-China Development Bank and the Export-Import Bank of China.
With financial guarantees from the African governments involved, the Mombasa-Nairobi railway secured $3.6 billion in loans from the China Export-Import Bank in May, with construction work expected to start within months.
Official figures show that China Development Bank has already issued more loans to Africa than the World Bank, the African Development Bank and the Asian Development Bank combined over the past six years.
Wei Ruihai, vice-president of the private construction company China Hyway Group, a manufacturer specializing in high- and low-voltage electrical systems for railway projects, says financing is limited in Africa, meaning many foreign rivals from Qatar, Slovakia, Spain and Canada are unable to bid for big-ticket projects in the way that Chinese companies can.
"The deposit rates charged by local banks are normally higher than 15 percent and loan interest even higher than that, so it is short-sighted to borrow large amounts from them," says Wei.
To renovate the 1,000-kilometer Mocamedes Railway in Angola-linking the coastal desert city of Namibe in the southwest of the country to Menongue, the capital of Cuando Cubango province to the east-Hyway was able to bid $1.3 million per kilometer in the second half of this year, a third of the price of a rival Portuguese bidder.
"China is the only nation in the world that has carried out large and complicated railway projects in various geographic and weather conditions over the past decade," says Dong Yan, a rail transportation researcher at the Institute of Comprehensive Transportation within the National Development and Reform Commission.
Dong says that successfully completed projects by Chinese railway construction companies will certainly put them in an excellent position to win high-speed railway projects now expected to be offered in the US, Turkey and Brazil.