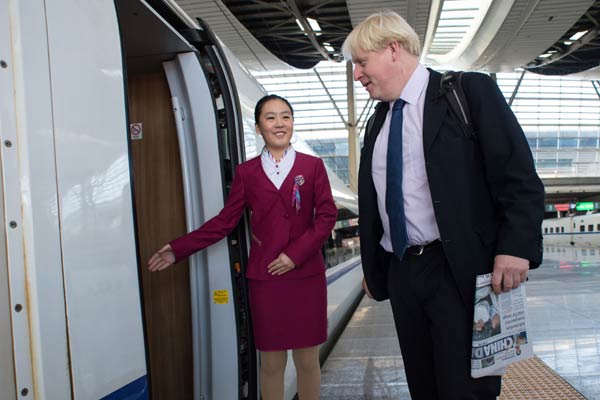 Mayor of London Boris Johnson takes a high-speed train from Beijing to Shanghai in this file photo. The train takes 5 hours to cover the distance of 1,310 kilometers and travels at a speed of 308 km-per-hour. Stronger global awareness of China's technology and innovation has paved the way for the domestic railway industry to speed up its business development. [Provided to China Daily]
Merger of two railway firms will give clear edge in global market
China's plan to merge its two railway vehicle manufacturers CNR Corp and CSR Corp into one conglomerate will create an industrial giant which will provide a significant boost to the country's export sector.
The planned marriage, which will end what had become a harmful price war between the two companies, is expected to create the world's biggest train manufacturer by sales, one which is capable of supplying bullet trains, light rail vehicles and subway cars to markets around the world.
Li Jun, deputy chief engineer of CNR's Changchun Railway Vehicle Co, its bullet train and electric multiple-unit train subsidiary, says the new integrated group will have a clear edge over global rivals by being able to optimize the two companies' technology edge, human capital and production capacity.
CNR and CSR often found themselves competing against each other for overseas orders, examples of which included a contract to build a high-speed rail line to connect Turkey's two largest cities (won by CSR) and the largest export contract of main line passenger trains to Argentina (won by CNR).
Though the Chinese train makers were rarely underbid by competitors from Europe, Canada, Japan and South Korea, they often had to confront each other on price to win international contracts.
"The domestic market for high-speed trains is pretty saturated, so the merger will prevent unhealthy competition and help in the further development of China's rail industry and the sectors associated with it," Li says.
CNR, CSR and a team from China Capital Investment Group submitted the first draft of the merger plan earlier this month to the State Council, which will see CSR issuing shares to amalgamate with CNR.
However, a lot of work still lies ahead on various aspects of the deal, such as sorting out duplication of construction operations and other overcapacity, which have raised concerns about how the new company will be managed economically and efficiently.
Wang Mengshu, an academic at the Chinese Academy of Engineering and an ardent supporter of the move, said that in future China is likely to ship more of its railway capacity overseas, in particular to emerging markets.
Meanwhile, it will also look for sustainable partnerships to invest in new plants and maintenance centers across the world to grow its global market share.
CNR and CSR were previously part of China National Railway Locomotive and Rolling Stock Industry Co, owned by the now-defunct Ministry of Railways.
The ministry divided the company into two parts in 2000, with each given 40 train factories, part plants and research institutes, still owned by the parent company.
"There are enough resources available to allow the new group to offer the whole package of services needed to complete any international project, including infrastructure construction, building and designing the vehicles, maintenance and professional training for local staff if they expand overseas," says Wang.
Wang says it would be logical for the combined company to transfer any surplus production capacity to Latin America, Africa and Southeast Asia over the next five years, markets with huge demand for modern railway networks, training institutes and industrial foundations.
The merger will create a new company with assets of more than 300 billion yuan ($48.31 billion), a combined market value of $26 billion, and 180,000 workers.
With each of their technological and engineering capabilities advancing rapidly, the railway enterprises have gradually discovered that projects in developing nations can no longer satisfy their growing ambitions.
At the end of last year, China had a high-speed rail network of more than 10,000 kilometers, far exceeding any other country and larger than the network in the entire European Union, the World Bank said in a report released in July.
"The new group will be more confident to knock on the doors of developed countries that once did not take China's railway products very seriously," says Feng Hao, a rail transportation researcher at the National Development and Reform Commission, the top economic planning agency.
"Chinese railway products not only offer significant price advantages, but after years of working in close cooperation with State-owned rail construction project providers, their technologies and experience are on par with anything in Germany and Canada, for instance," says Feng.