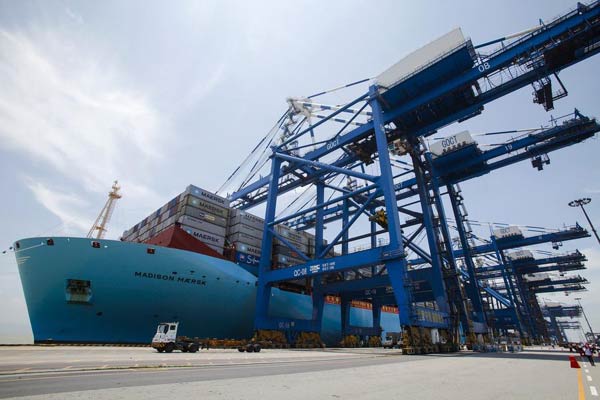 Triple-E class container ship "Madison Maersk" of Maersk Line loaded with containers is berthed at Nansha port in Guangzhou, Guangdong province June 26, 2014. [Photo/Agencies]
Container giants Maersk and MSC write own marine operation rules
Container ship operators from China will face fresh pressure from the newly formed 2M alliance between Denmark-based Maersk Line and Switzerland-based Mediterranean Shipping Co SA, industry experts said on Wednesday.
The new grouping comes after a three-party pooling alliance - P3 - was turned down by the Chinese government.
The two European companies signed a 10-year vessel - sharing agreement earlier this month to enhance their earnings capabilities. The P3 alliance was a three-way tie - up between the two shipping giants and CMA CGM of France.
Zhang Shouguo, vice-president of the China Shipowners' Association, said the government had rejected the P3 alliance because it had a combined market share of about 30 percent of the global container shipping market. Maersk and MSC have jettisoned the French container line and formed a vessel-sharing agreement in such a way that their combined market share is way below the 30 percent threshold.
Unlike the P3 network, the 2M partnership will only have a small market share and operate more as a vessel - sharing agreement without any separate independent organizations or executive powers managing the network.
The agreement doesn't include joint marine operations. Each party will execute its own operations, including stowage, voyage planning and port operations. Maersk and MSC can also manage their sales, pricing, marketing and customer service functions independently.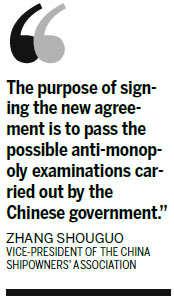 "The purpose of signing the new agreement is to pass the possible anti-monopoly examinations carried out by Chinese government in the future, as well as reaching a deal that is similar to the P3 network to cut costs on vessel operations, fuel and other expenses," Zhang said.
The 2M network will include 185 vessels with an estimated capacity of 2.1 million 20-foot equivalent units, deployed on 21 strings. The previous proposed P3 network had a total capacity of 2.6 million TEU, with 255 large vessels on 29 loops on three trade lanes: Asia-Europe, trans-Pacific and trans-Atlantic.
Yin Zhen, deputy director of the division of transport planning at the Institute of Comprehensive Transportation under the National Development and Reform Commission said the new network still covers all the three trade routes.
"It replaces all existing vessel sharing agreements and slot purchase agreements that Maersk and MSC have in the world's busiest trade lanes," he said.
Under such circumstances, Yin said the 2M is just an alternative to the previous P3 alliance.
The 2M vessel-sharing agreement is expected to start in early 2015. The starting date is conditional on filing of information to and in some cases approvals by relevant authorities, Maersk said in a statement.
Jiang Ming, a shipping analyst at Haitong Securities Co, said it is not unusual for major international shippers such as Maersk and MSC to form a bigger union to offset lower volume growth and overcapacity in recent years, and to offset competition from larger alliances like CKYHE and G6 in the global market, which were formed in 2005 and 2011, respectively.
The CKYHE Alliance was set up by China's Cosco Container Lines, K Line of Japan, Yang Ming of Taiwan, Hanjin Shipping from Republic of Korea and Evergreen of Taiwan. G6 Alliance is composed of Hapag-Lloyd from Germany, NYK Line of Japan, OOCL of Hong Kong, Hyundai Merchant Marine of Republic of Korea, APL of Singapore and Mitsui O.S.K. Line of Japan.