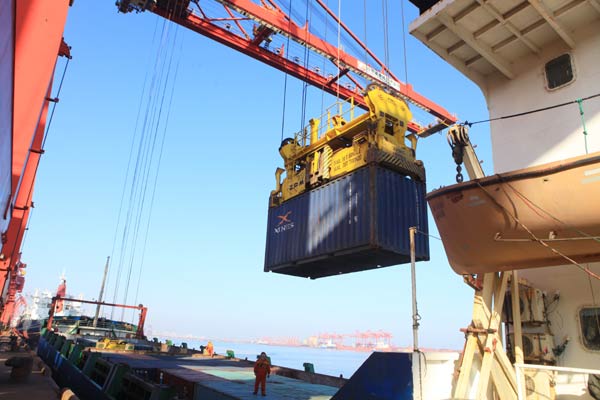 A shipping container is loaded onto a cargo vessel in Rizhao, Shandong province. CHINA DAILY
Bulk ship operators in China shouldn't expect a market recovery soon, and some of them may face liquidity problems, according to a report by the Shanghai International Shipping Institute.
The SISI index shows that the prosperity level of the country's shipping companies in the second quarter dropped 0.1 point quarter-on-quarter to 88.09 points.
With more bulk vessel shipping capacity coming into operation and the international commodity market continuing to weaken since the first quarter, shipping companies' willingness to invest has deteriorated.
The institute reported on Monday that shipping companies' willingness to build new ships stood at the contractionary level of 91.37 points, down 14.68 points from the previous quarter.
Han Yichao, an analyst at Changjiang Securities Co, said that domestic shipyar
ds
received many orders for bulk carriers in the first half of this year. With prices low, Han said, orders may continue to rise in the third quarter.
According to British shipping and offshore market intelligence provider Clarkson Research Services Ltd, global bulk carrier orders so far this year are up 110 percent year-on-year. The problem of excess production capacity may occur again if new orders continue to rise.
"Even though the price of a bulk vessel now is 30 percent cheaper than the market price in 2008, shipowners must be aware that the industry is being pressured by excess tonnage and depressed freight rates, as well as rising operating costs. Therefore, the current market downturn might last for a very long period," said Han.
"To avoid liquidity problems or even bankruptcy, they must exert self-control in putting new dry bulk ships into the market," said Han.
In the meantime, China's port business staged a moderate recovery in the second quarter.
Boosted by rising berth utilization rates and throughput, the profitability of Chinese ports such as Shenzhen, Shanghai and Ningbo-Zhoushan improved compared with the same period in 2013.
The prosperity level of Chinese ports stood at 109.79 points.
The government's focus on promoting an increasingly consumption-driven economy "holds great potential for the port industry", said Zhang Shouguo, vice-president of the China Shipowners' Association.
"We are getting the sense that domestic demand for foreign goods such as cars, machinery, grain, precious metals and other commodities from both developed and emerging markets will continue to grow in the second half of this year," said Zhang.