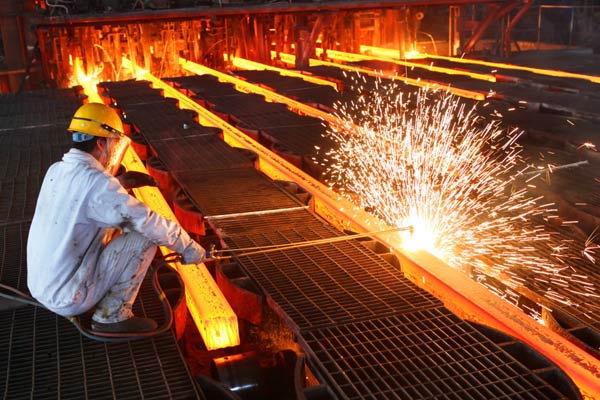 A worker cuts steel bars on the production line of a mill in Lianyungang, Jiangsu province. The official manufacturing Purchasing Managers Index for June stood at 51, the fourth consecutive month-on-month rise this year. Si Wei / For China Daily
Manufacturing numbers stand in sharp contrast with weakened property sector
Two gauges of China's manufacturing sector released on Tuesday point to sustained expansion in factory activity, with government stimulus efforts paying off, according to analysts.
The expansion contrasts with further weakness in the real estate sector. Experts said that what happens to the economy in the coming months depends on which proves stronger: the factory sector or property activity.
The official Purchasing Managers Index for June, jointly issued by the National Bureau of Statistics and the China Federation of Logistics and Purchasing, stood at 51, the fourth consecutive month the gauge has risen.
The final reading of the PMI jointly issued by HSBC Holdings Plc and Markit Ltd, also for June, rose to 50.7 from 49.4 in May, surging past the 50-point level that separates growth from contraction for the first time since December.
The HSBC/Markit index is weighed more toward smaller and private manufacturing companies.
"The rise of both figures suggests that the growth momentum has been picking up because of recent pro-growth policies", including infrastructure investment and more budget spending, Liu Ligang, greater China chief economist at Australia and New Zealand Banking Group Ltd, said in a note.
Premier Li Keqiang's recent pledge to safeguard the economic growth goal indicates that the "overall policy stance will become more supportive for growth in the second half", Liu wrote.
As part of the pro-growth policy, the way loan-to-deposit ratios are calculated also has been revised to give banks more capacity to lend.
The central bank also has lowered the reserve requirement ratio for banks that direct loans to rural borrowers and smaller companies.
A closer look at the PMI data has given the market greater confidence in the trajectory of the recovery. All but one of the major five sub-indexes of the official PMI improved month-on-month.
Most experts said the government's stimulus measures have reversed the nation's economic deceleration for the moment, but more must be done to solidify the trend.