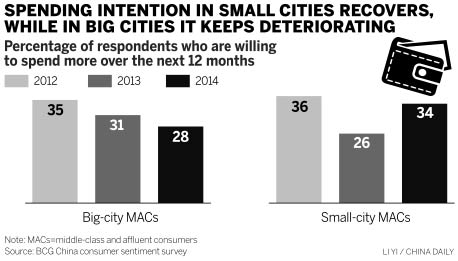 Rising optimism in small Chinese cities has helped push overall consumer confidence in the nation to a record high, despite slowing economic growth, a new report said.
Based on a survey of 1,000 people in 12 cities, the Boston Consulting Group found that consumers are feeling more hopeful about the economy this year: The number of people who plan to spend more money in the coming year exceeds those who plan to spend less.
It represents quite a turnaround. In both 2011 and 2012, the number of consumers who said they would spend more outstripped those who did not. But in 2013, for the first time in recent history, a majority of consumers said they planned to cut back on spending.
"Last year, middle-class and affluent consumers in small cities were feeling the effects of the Chinese government's anti-corruption campaign, which caused subsidies to be canceled and reduced discretionary spending," said Jeff Walters, a BCG partner and co-author of the report.
"However, people have adjusted, and sentiment has returned to previous levels."
The company defines MACs as those with a monthly household income of more than 7,200 yuan ($1,167).
Lower-tier cities are home to more people such as entrepreneurs, public servants and small firm employees, groups that are sensitive to policy changes, BCG said. Now, with uncertainty fading, these consumers are willing to loosen their purse strings.
The difference in sentiment between the smaller and larger cities is widening. In smaller cities, 34 percent of respondents were willing to increase their spending in the next 12 months, up from 26 percent in 2013. But in big cities, just 28 percent of respondents said they would spend more, down from 31 percent a year ago.
One big reason is that the pace of life in small cities is much more relaxed. People who said they were experiencing a great deal of stress and anxiety about the future and had concerns about losing their jobs were much more numerous in big cities, the survey found.
Such attitudes have led to MACs in large cities saving more to purchase a home, a car or for their children's education. For example, 39 percent of MACs in big cities said they were setting aside savings for real estate.
They also value quality over quantity, the survey found. MACs said they were willing to spend more than previously on high-priority categories but were no longer interested in trading up in such nonessential categories as packaged food, beverages or entertainment.
"This means these categories may see slower growth in big cities," said Youchi Kuo, an expert principal at BCG and a co-author of the report. "Opportunity remains, however, in smaller cities," she said.
In big cities, though, there is strong demand for lifestyle-related categories like baby products, automobiles, fresh produce, tourism and home renovation, Kuo said.
Companies, especially multinational corporations, will have to crack the booming small city market, Kuo said. That does not mean an "all-out" war, but finding a way to work with local retailers and distributors to reach their customers, she explained.