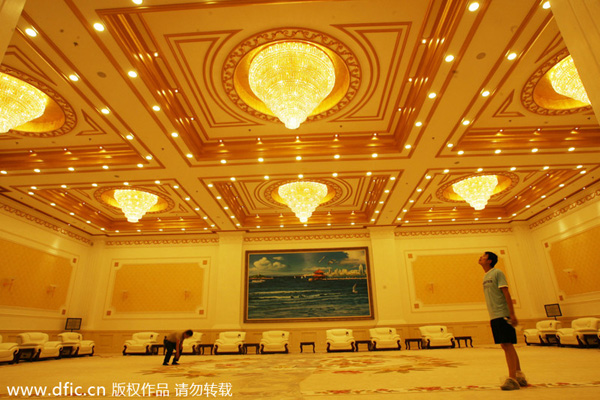 Interior of the VIP room at Qingdao Railway Station in Qingdao city, East China Shandong province, July 29, 2008. [Photo/IC]
BEIJING - VIP lounges in airports and railway stations came under the spotlight this week after China's three telecom giants confirmed they would be shutting their exclusive facilities.
China Mobile, China Telecom and China Unicom are required by the country's state-asset supervisor to close their VIP rooms before October in a bid to cut marketing expenses.
Lounges target middle- and high-end clients, usually offering drinks, snacks, papers and magazines, Internet access and help with boarding procedures.
"To implement the central government's regulations that advocates frugality, China Telecom will close the VIP room in Shenyang North Railway Station on July 30 and that in Shenyang Taoxian Airport on Aug. 15," according to a sign at the railway station in north China's Liaoning province.
Tens of thousands of people have commented on social media about the move and whether it is right for the government to make such decisions.
Some netizens lauded the move as part of the government's frugality campaign, saying that it will help reduce extravagance of government officials and curb corruption.
Gu Dening, a reporter, said in a Weibo posting that apart from containing extravagance, closing the lounges will teach Chinese companies to come out of their "VIP obsession."
Offering VIP services not only brings about corruption and social injustice, but also hurts ordinary customers, Gu said.
"It is right to put an end to the privilege," said Weibo user "Gaopizai".
Ma Jinghao, a financial expert, said in a posting that VIP lounges that mainly serve government officials should definitely be closed.
"However, lounges providing services to real VIP clients should be left to market forces to decide whether they should be shut down or not. The government should not use administrative intervention," Ma said.
The majority of people voiced displeasure with the closures, arguing that ordinary clients who gain their VIP status through large amounts of consumption should have the right to enjoy value-added services.
"How can it be linked with extravagance if we gained VIP qualification through spending?" asked "Bingchengzuoyongbang".
Ma Yingbing, vice president of a software company, said he goes on frequent business trips and needs a VIP lounge to do his work.
Cao Lin, a commentator with China Youth Daily, reminded people in a Weibo posting that it is just lounges operated by some state-owned monopolies that are going to close, while many others will remain open.
"In this open era, China's reforms will only go forward, never backward," he said.