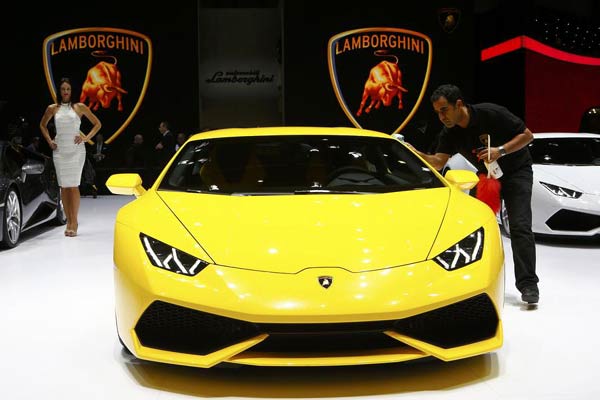 An employee cleans Lamborghini Huracan during the media day ahead of the 84th Geneva Motor Show at the Palexpo Arena in Geneva March 4, 2014. [Photo/Agencies]
The ultra luxury vehicle sector in China continued to increase in the first half of the year despite worries of a drop in sales due to the government's frugality campaign.
Stable economic growth and, more important, local consumers becoming more mature, helped support first-half sales and give confidence for future growth, industry players said.
German sports car maker Porsche reported 19,800 vehicles delivered in China in the first half, an annual rise of 8 percent.
"With our present model lineup, we are well positioned to face challenges. In the second half of the year, we will keep our foot on the accelerator," said Bernhard Maier, a member of the Executive Board Sales and Marketing of Porsche.
Britain's iconic Rolls-Royce Motor Cars enjoyed a record half-year in 2014, with sales in the Asia-Pacific region increasing by nearly 40 percent. Though there was no countryby-country breakdown, the region's boom was led by the company's largest single country market: China.
"The continued success comes as a result of our strategy to focus and further develop highly personalized services and products for the most exclusive ownership experience," said Henrik Wilhelmsmeyer, the company's director for China.
Amedeo Felisa, CEO of Ferrari, announced earlier this year that the Italian super sports car maker plans to open its tailormade center in Shanghai, the first in the Asia-Pacific region.
Also from Italy, Automobili Lamborghini said that it delivered 89 of its super sports cars to Chinese consumers in the first six months. Though the sales were similar to a year ago, Andrea Baldi, who is in charge of Lamborghini's Asia-Pacific business in Beijing, showed no worries.
He said that the attitude toward super sports cars is sophisticated in China, with more people buying cars for their performance, and not just because they are expensive. "We see now that the customer behavior is becoming significantly more mature," he said.
Zhong Shi, an independent auto analyst in Beijing, said: "The ultra luxury vehicle segment, including super sports cars, is a very niche market. It would hardly be effected by policy changes, as there are always a growing number of rich people."
"In recent years, we have been happy to see the identity of these customers change a lot, from the newly rich to discerning consumers who truly love and understand the brands and products," he added.