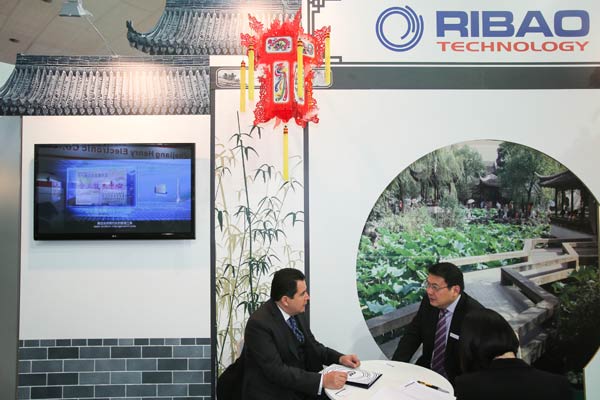 Companies from China showed their latest technologies at this year's Hanover IT exhibition in Germany. Zhang Fan / Xinhua
The important codependence between China and Germany was made all the more obvious by the global financial meltdown and eurozone crisis.
Germany is China's No 1 trading partner while China is Germany's third.
The bilateral trade relationship has borne the most fruit in the last five years.
Bilateral trade between the two countries reached $161.6 billion in 2013. At 28.9 percent the total between China and Europe, it is the largest share and greater than trade with the Netherlands and the United Kingdom combined. Those countries rank second and third.
And trade between China and Germany in the first five months of this year grew 12 percent compared to the same period last year to $69.7 billion.
Among all EU countries, Germany is alone with a mutually complementary economy to China. In recent years, China has become the major market of German automobiles and electronic products.
Mechanical, electronic and transportation equipment imported from Germany accounted for 70.5 percent of the total in 2013.
China was Germany's largest export destination for three years in a row from 2011 to 2013.
The country is also one of Germany's top five largest overseas markets of transportation equipment and the overseas market with a fastest growing auto sales.