Plan seeks to exempt 'daily necessities' from levy by end of year
The Finance Ministry may scrap the consumption tax on ordinary cosmetics as part of a broader fiscal reform.
China will complete the main reform of its fiscal system by 2016 and will have a "modern" set-up in place by 2020, the Xinhua News Agency reported, quoting the Politburo as saying on Monday after a meeting.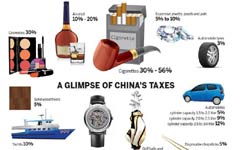 Gree
n tax mulled to help fight pollution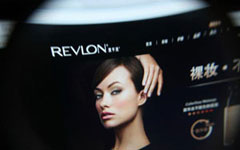 Revlon kisses China goodbye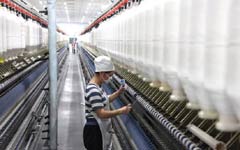 Small firms get a break on VAT
A plan drawn up by the ministry will separate high-end cosmetics from ordinary products. Luxury beauty products will still be subject to consumption tax, while those classified as daily necessities will be tax-exempt, the Legal Daily reported on Monday, citing sources with knowledge of the matter.
The plan will require final approval by the ministry and the State Council (the cabinet), sources told China Daily on condition of anonymity.
Specifics will be announced in the second half of this year, the Legal Daily said.
China has levied consumption taxes of as much as 30 percent on cosmetics, including high-end skincare products.
Unlike advanced economies, China imposes a consumption tax on selected consumer goods, such as cigarettes, alcohol, petroleum products, gems and vehicles, in order to discourage certain expenditures.
China also differs from advanced economies in that the latter collect consumption tax on the retailer end, while China collects it at the producer level.
The government will change the stage of collection mainly to the retailer level, probably in 2015, sources said.
Zhu Qing, professor at the School of Finance at Renmin University of China, said he's aware of the discussions on taxation of cosmetics but the specifics are still difficult to define.
Zhu said he didn't think dropping the tax on some cosmetics would boost domestic consumption, since an increasing number of Chinese consumers buy these products overseas.
He called the move a case of "throwing away the apple because of the core". Rather than cutting the tax on cosmetics, he said, it would be better to lower taxes on daily necessities such as basic food items.
But a source from a Japanese cosmetics company said this is a good time to reduce the tax and doing so will benefit consumers who won't have to rely on overseas sources for quality products.