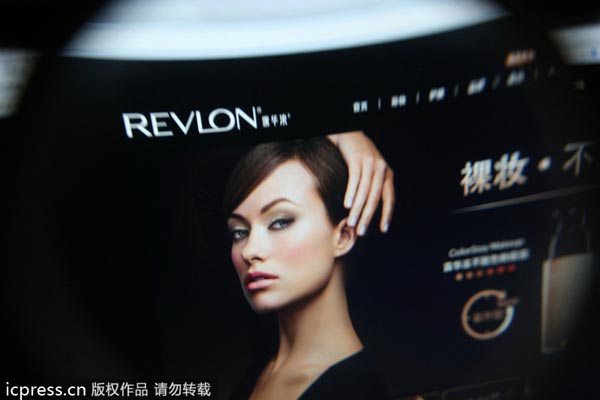 A screen shot of Revlon's Chinese website, Jan 2,2014.[Photo/icpress.cn]
Cosmetics and beauty products maker Revlon Inc's decision to exit the Chinese market comes from having a failed marketing strategy, single distribution channel and weak products that don't meet local needs, experts say.
The New-York based company is leaving China after 37 years and will shed 1,100 jobs as part of cost-cutting measures, the company announced on Tuesday.
Most of the job cuts will be in China, where Revlon's operations make up only 2 percent of the company's sales, which have been falling. Revlon declined to comment on Thursday.
Global sales dropped 1.3 percent to $1.02 billion in the nine months ended last September, compared with the same period in 2012.
Revenue in Asia decreased 3.5 percent to $166.8 million during that time.
The departure from China will save Revlon $11 million a year, the company said on Tuesday in a regulatory filing with the US Securities and Exchange Commission.
Revlon has seen major turnover in executives this year, with CEO Alan Ennis resigning in October, replaced by interim CEO David Kennedy and in November by Lorenzo Delpani.
The company also announced a new CFO, Lawrence Alletto, in July after its former chief financial executive, Steve Berns, joined US media company Tribune Co.
In China, Revlon holds less than 0.1 percent of the skin-care market and about 1 percent of the makeup market, according to data from Kantar Worldpanel China.
Jason Yu, general manager of Kantar Worldpanel China, said lack of investment in brand building in terms of marketing and advertising has resulted in lower exposure of its brand to consumers. Meanwhile, competitors such as Procter & Gamble Co, L'Oreal Groupe and Unilever Group have poured money into advertising in traditional and new media.
In addition, Revlon's limited efforts to develop innovations for Chinese consumers also contributed to its failure, said Yu. For example, some international brands have developed BB cream, a hybrid product somewhere between skin care and makeup, which has proven to be popular among Asian consumers.
Men's skin-care products also have developed faster in China than in Europe and United States.
"Only selling what is available in your home market in China is not good enough," said Yu. "You have to understand local consumers and make products here according to their needs."
Revlon's single distribution channel - mostly at makeup counters of large department stores - also deprived them of more interactions with Chinese consumers, Yu said.
"Distribution channels rule the beauty and cosmetic market in China," he said. "Revlon is barely visible in channels such as supermarkets and online retailers."
Both skin-care and makeup segments in China have grown in the past 12 months, 9.4 percent and 8.5 percent, respectively, from a year ago, Kantar Worldpanel China data show.
"Cosmetics are still an emerging industry, and it takes time to cultivate consumers' habits, as well as making the effort to go into lower-tier cities and quickly responding to local needs," Yu said.