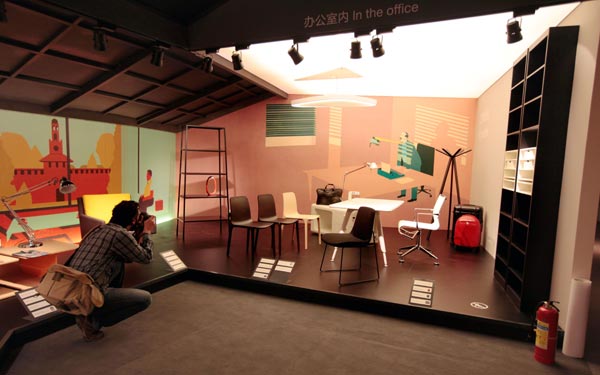 An international furniture design exhibition in Beijing. According to data published by the China National Furniture Association, annual sales of furniture products in China touched 1.2 trillion yuan ($192 billion) by the end of last year, with 20 percent coming from office furniture. Provided to China Daily
Convenience, comfort set to drive growth for Humanscale in global markets
Reclining almost full-tilt in his chair at the Humanscale office in Shanghai, Tim Hutchings encouraged his visitors to put their feet up and let their hair down.
Hutchings was by no means having a party, but rather asking visitors to experience the beauty and joy of the company's ergonomic products that represent the best in comfort and design.
As president of Humanscale International, the overseas arm of the privately held Humanscale Ltd, Hutchings said the US-based company will continue to be an industry leader in products that combine the best of beauty, safety and comfort. "The real testimony for our products are the close links they have with the good health and fortunes of people," he said.
Though Humanscale has been in business for over 30 years now with its ergonomic products, Hutchings said China will undoubtedly be the main growth market in the future.
"China is a rapidly expanding market for ergonomic products thanks to its rising purchasing power, fast growing economy and higher incomes. More importantly we see the growth for our products being driven by the growing awareness for health and environment in China."
Humanscale, which entered China in 2010, has clocked triple digit growth in revenue since then and is well on track to post a growth in excess of 100 percent this year, Hutchings said. The existing showrooms in Shanghai and Beijing, as well as the upcoming facilities in Chengdu and Shenyang, will spearhead most of the growth in China, he said.
"We are not just a furniture manufacturer. We believe that the best designs in the world are those that are based on purpose and function. If a design solves a functional problem in a simple and elegant manner, the result would often be honest and timeless," said Hutchings.