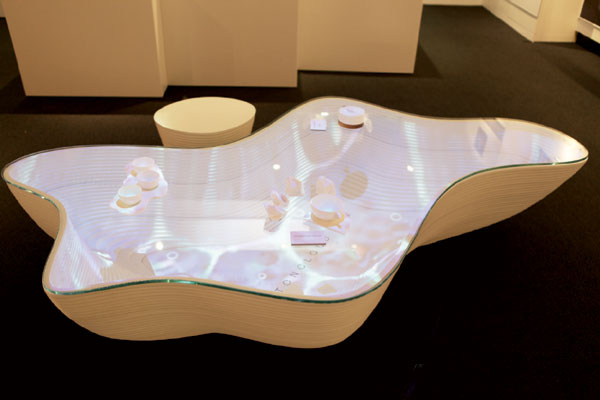 A tea table from the Chinese brand Sitoncloud is on display at the China Design Center in London. Photos by Monica Wyithe / For China Daily
Fostering better understanding of contemporary designs from China and establishing creative partnerships with British designers are the key priorities for the newly-opened China Design Center in London.
"It is not just about being made in China, but also about being designed in China," says Qu Zheng, chief executive of the center.
"Chinese designers are often misunderstood. There is a perception that they copy rather than come up with fresh ideas. The reality is that they are as creative as their European counterparts, and second to none in craftsmanship."
The center, he says, is an independent initiative for showcasing China's design excellence to the world.
Located in the Building Center at Store Street in central London, it will serve as an exhibition center for Chinese materials, furniture, industrial designs, architecture and arts and crafts.
Beyond Architecture, an exhibition now on at the center, is the first major initiative there to showcase Chinese designs globally.
On display are exquisite products like the tea table designed by the Shanghai-based design firm Sitoncloud which shows gaiety, freshness and exquisite taste. At night, when a projector is switched on, the tea table becomes a stage to project everything that one desires. The movie, specifically created to accompany the table, is a montage of various videos of the universe, the sky, the earth and microscopic life forms.
It starts with the explosion of a nebular system at an altitude of a few million kilometers. In what follows, one can see images of clouds floating over a valley from a distance of a few thousand kilometers.
As one approaches Earth, images of a luxurious forest are followed by a prairie with flowers and butterflies hovering over the ground. The movie continues with a video revealing life at the microscopic level, and eventually goes on to the Big Bang. In short, the videos recount the eternal cycle of change that constitutes the elementary principles of Chinese cosmogony.