The investment return of China's local government debt is good, and its risk can be controlled, the chairman of the Export-Import Bank of China said on Wednesday.
"Most funds borrowed by local governments are used for infrastructure construction, which generates good investment returns and promotes the development of the local economy," said Li Ruogu, chairman of the Export-Import Bank of China.
"The risk of the debt can be controlled, and the debt level is lower than in many developed economies," Li added.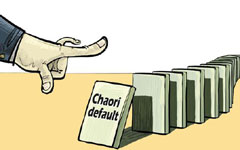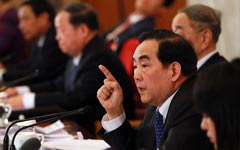 By the end of 2012, the direct debt of China's local governments stood at 36.7 percent of the nation's GDP, according to the National Audit Office. At the same time, the public debt of the United States was 104 percent of that country's GDP.
"It is estimated that the ratio of China will not exceed 60 percent, which is the internationally recognized warning line, "said Li.
Li added that China should set up a system that confirms the responsibilities of debt issuers, including local governments and enterprises, which can reduce risk.
China should promote budget reform to strengthen the debt limit, said Liu Yuhui, an economist with the Institute of Finance and Banking at the Chinese Academy of Social Sciences.
Premier Li Keqiang said in March that the level of local government debt is within control but promised to take further regulatory steps, including putting debt under budgetary management, to strengthen oversight.
"We will establish a standard financing mechanism with which local governments can issue bonds and place local government debt under budgetary management," said the government report delivered by the premier at the opening of the annual session of the National People's Congress earlier this year.
Bank of America Merrill Lynch Chief China Economist Lu Ting said in a research note that local governments will likely borrow through regulated channels, as the premier promised.
Li Ruogu, the Export-Import Bank of China chairman, also said on Wednesday that it is baseless to say that China is overissuing currency.
According to him, China is mainly engaged in indirect financing through commercial banks and the scale of the country's stock and bond markets is still relatively small.
"That's why China's ratio of money supply to GDP is comparatively high, but it is still lower than that of Japan, Singapore, South Korea or the Eurozone," Li said.