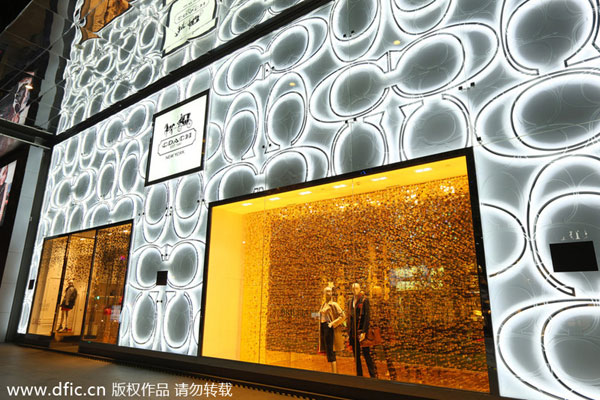 A Coach boutique in Shanghai, China, Dec 10, 2013. In fiscal 2013, Coach's sales on Chinese mainland, Hong Kong, Macao and Taiwan reached $430 million, a 40 percent year-on-year increase. [Photo/dfic.cn]
CEO says luxury goods seller aims to be inclusive, relevant and accessible in the country
Coach Inc was among the first luxury brands to come to China, selling its handbags and accessories.
"China is our No 1 geographical opportunity in the world," Jonathan Seliger, Coach China president and CEO, said.
The country is the world's second-largest market for luxury goods. It is Coach's third-largest market by revenue, after its home base of the US and Japan.
In fiscal 2013, Coach's sales on China's mainland, Hong Kong, Macao and Taiwan reached $430 million, a 40 percent year-on-year increase.
The company was established in a Manhattan loft in 1941, its founders inspired by the supple leather of a worn baseball glove. Today Coach has stores in over 30 countries. It is still headquartered in New York.
Coach entered the Chinese market via distributors in 1998, six years before the country joined the World Trade Organization and opened to foreign companies.
China is the world's second-largest economy.
In 2009, Coach took back its business from franchisees on the Chinese mainland. Business has increased ever since.
Coach, along with peers, such as Swarovski, Calvin Klein and Levi's, is among the top eight brands in China, according to domestic media.
Seliger spoke to China Daily in Coach's two-floor flagship store in Shanghai. Alongside, luxury brands abound.
Opposite Coach's building are the more imposing and glitzy logos of Tiffany and Louis Vuitton. Less than five minutes away, Maison Hermes erected its signature orange billboards after more than four years spent renovating a century-old compound
At end-2012, China's government banned "any form of extravagant spending".